A Mothers Day Gift...
To show her you care.
Make this beautiful Mothers Day Gift for your Mum, and add her favourite choice in jewellery.

This "Special Day" will soon be with us again, and it is an ideal opportunity to show your mum how much you care.

In the UK it is earlier than other parts of the world, and this year it is on the 3rd April.

This pretty card is easy to make and you can add your mums favorite choice in jewelry.

Then adapt you color scheme to suit both your mum and the piece you have added.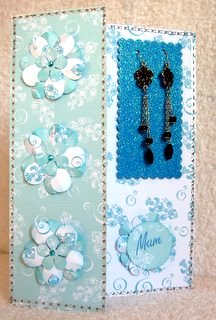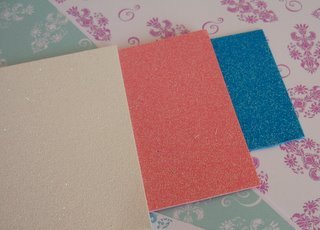 Step 1

As always the first thing to do is choose your papers and any special card that you wish to add.

I have used glitter card on my project.

Step 2

From the Glitter card I have Die cut a shape I liked and punched two small holes in.

(The position of these depends on the piece you are going to add, and will hold the jewellery in place.)

Step 3

I have added some long, pierced earrings to this card.

The double sided tape to the back secures the earring posts in place.

If your mum doesn't have pierced ears then maybe add some clip-on earrings instead, a brooch or even a locket as your Mothers Day gift

(If you are adding a chain then just make small slits at the top of the panel to loop the chain over.)

Put these to one side while you make the card.

Step 5

I have added some punched flowers to my project.

I have used two different sizes of punch, and I have inked all the edges of the petals.

The back of the card has been done in the paler turquoise.

The smaller front panel has a matching darker shade to it.

All the edges have been framed with peel off borders.

Step 6

Assemble the card as it pleases you.

I have added the flowers to the smaller left panel and the earrings to the right, using foam pads to raise them up.

Putting it onto foam pads makes it easy to remove from the card front for your mum to wear.

The flower under the gift has as a peel off "Mum" and the center of the flowers have gemstones in them.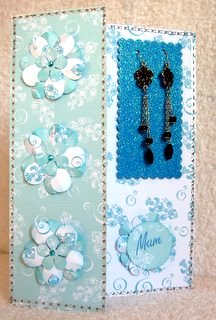 And here is the brooch, making a very beautiful Mothers Day gift.

But don't forget to tell your mum that it is detachable from the card.

I would hate for her to admire it and then put it in a drawer and not use your gift.
And remember this can also be used to send a gift to your Gran, Auntie, Sister, Niece or even you friends.
For birthdays, anniversaries, Christmas or even as wedding gift from Bride to Bridesmaids.

If you prefer to give your mum a more practical gift then try this idea instead.
Towel Cakes are a really fun way to give a useful gift and very easy to make.

Return from Mothers Day Gift to Homepage

Search
Custom Search