Art Deco Cards...
...a reminder of Elegance past


Art Deco Cards can be as elegant as you want to make them.
It was a time known as the "Age of Glamour" so for me "Bling" rules whenever I make cards on this theme.
The Art Deco period was an International Era between 1920-1940, and it was very glamorous.
It was  known as the "Roaring Twenties" and had its heyday in Europe around the 1930's.
It was a very fashionable age, and women where dressed more casually. 
 Gone where the corsets and whale boned under garments, and women where allowed to express themselves more.

Some very enterprising women made their names from the fashions they created and all these make wonderful subjects for a Art Deco Cards.
All the images on these cards are from the lovely CD's from
Debbie Moore Designs
Debbie has many lovely products that can make a real difference to your cards and the website is well worth a visit.

Some Amazing Women
Elsa Schiaparelli ...
introduced... Newspaper print scarves, fish shaped buttons, black sweaters with rib bones on them, and "Shocking Pink".
But most of all where the large hats she created, that adorned the heads of many glamourous women
The Blue Hat epitomises the era and the hats that Elsa designed.
This card has the hat decoupaged in three layers, it has been sparkled up with glamour dust and a flower gemstone added for effect.
The beads around her neck have been accentuated with heat embossed black powder and extra gemstones add at the top.

The sentiment is computer generated and can say anything you wish to write. I have layered it onto some silver card and fixed it with foam pads.
The whole topper is layered onto blue and then silver mirror card and fixed to the front of the base card with glue.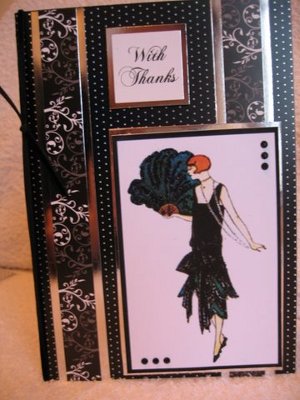 Gabrielle "Coco" Channel ...
gave us the Little Black Dress, and what a fabulous idea that was. 
Introduced in 1926 and still going strong...what woman doesn't have at least one in her wardrobe.
Coco was the one that made comfort and elegance go hand in hand.
Her perfume "Channel No.5" was marketed in 1922 and is still a firm favourite with many ladies, including me !

This card uses black glitter and flat backed pearls, and everything is layered onto silver mirror card.

The topper and sentiment are raised with foam pads, and a black velvet ribbon is around the spine of the card.
Very elegant!
There are many things around which you can create your Art Deco cards.
Cruising became very popular in this age, steam trains, the theatre and cinemas.
Wonderful Jazz music and Dancing....heard of the Charleston?
And don't forget the Architecture that was making an appearance too.
Many cities where labelled as the most "Romantic" place to be...Paris, New York, Rome, Monte Carlo, London and art work of all these places can be used in your creations.
Some are very suitable for making cards for men.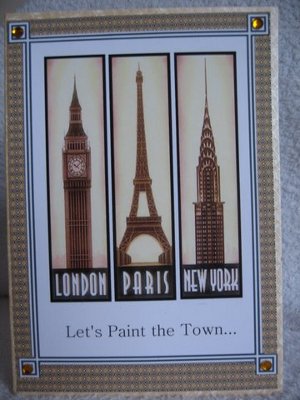 Have a look at some of the Royalty Free photos and pictures that you can use and add them as toppers to your cards.

But most of all have fun and enjoy your cardmaking, whichever era you choose to copy...
Return from Art Deco Cards to Homepage