Wedding Invitations...
For Your Special day
Your Wedding Invitations are the most important aspect of all your wedding stationery

 Sending these to hundreds of people can be a mammoth task, and it is better to keep it simple if you plan on making your own.

Allow yourself plenty of time if you are starting from scratch, and don't forget to add the RSVP.

The other alternative is to purchase ready made card blanks and dress them up as you wish, but this, of course, is more costly.

The most elegant wedding invitations can be created by simply layering up white and cream card with organza ribbon.

Use peeloffs if you aren't happy with your handwriting, and add any embellishments you have in your stash.

Maybe adding an Embossed panel to the front, and adding coloured ribbon is worth considering.

Take into the theme of the wedding when planning your colours and flowers.

From white and cream card, cream organza ribbon and some silver metal flowers I have created....

...this card.

It is alternate white and cream layers, with a cream ribbon wrapped around them.

The silver flower is metal and has had a pearl placed in the centre.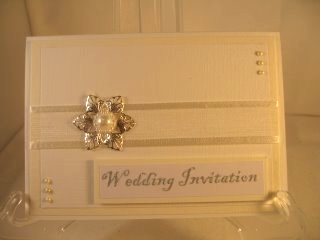 Smaller pearls have been added to the top right and bottom left of the card.

The sentiment was computer generated and Glamour Dust added to it with a Quickie Glue Pen.

From the pictured pink and white card I have made another invitation.

With the addition of some ribbon and paper flowers...

...this lovely card has been created.

The corsage at the bottom of the card has been done with Pinflair Glue Gel.

The leaves are punched from the green card, and poked (technical term) into the glue.
The Flowers stems have been spiralled around a cocktail stick.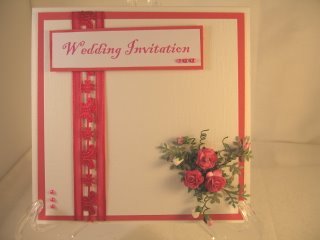 Small pink pearls are added and the sentiment is from the PC.

You can make yours from the colour scheme of your wedding.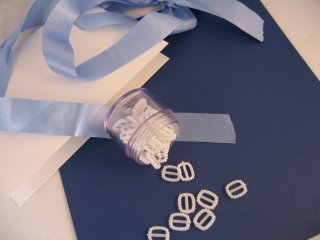 This blue collection is always very regal and you can buy blue flowers if you need them on your cards.

Adding the Bride and Grooms name to the front of the card is a priceless attention to detail and will please them both.

The details inside the card can all be created on the computer, and printed on to a matching paper, or for a luxury look try vellum or parchment.

There are many CD's available with templates for the inside of your card, and you can edit the text on some of them too.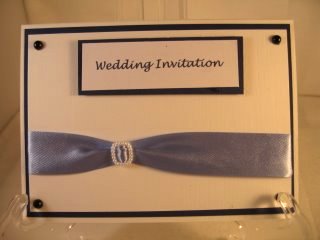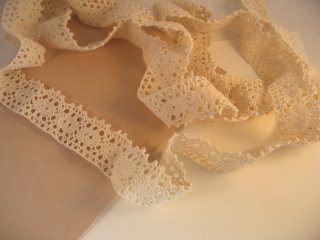 All the things I have used are readily available to you, either from your local craft shop or via the internet.

And none of them cost a fortune, especially good if you have lots of wedding invitations to send.

Many of them come in packs, with a lot of the items in each pack, thus making it go a long way.

The old lace on this card cost just 50pence for a big bundle that will go on many cards.

But always make sure you have enough materials to complete the project.
There's nothing worse than running out of things and you still have a lot more wedding invitations to make.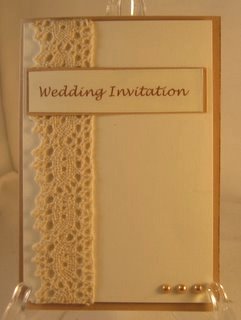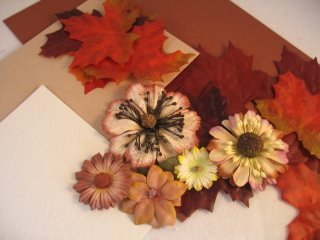 And last but not least take into account the season of the wedding itself.

Make your invites to match it.

Take advantage of the beautiful silk leaves to create a simple but elegant invitation and add a gorgeous vintage paper flower.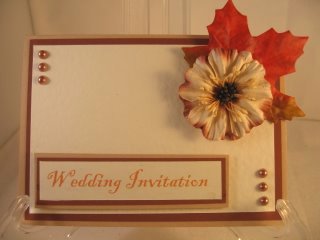 The R.S.V.P.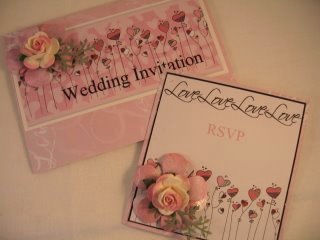 An essential addition to your wedding invitations is the RSVP.

This enables your guests to let you know what their intentions are for your ceremony.

Keeping all your stationery the same with colours, embellishments and style will produce a very classy look.

This addition need only be a small card but needs certain points adding for you to know who has returned them.....obvious? Yes! but how many people forget to do this....

Their Name
Will/will Not be attending
Reply By This Date
Reply To This Address

The reply by date will help you with the organising of all the other things involved in planning your big day.

I hope I have given you some ideas to work on for your Special Day.

Don't forget to look at the other elements that complete your Wedding Stationery.

Make them all to match for a really professional look and use quality card stock. Take a look at that offered by Papermill Direct  

Return from Wedding Invitations to Card Making Magic Homepage

Search
Custom Search