Create stunning Wedding Day Cards...
...for that extra "Special Day."
Wedding Day Cards are those you give to celebrate someones "Special Day"

Make it as beautiful as you can.
Search
Custom Search
Wedding cards can be lovely to create, and can be matched to the overall color scheme that has been chosen by the Bride and Groom.

But they aren't to be confused with the larger subject of Wedding Stationery, which will be covered in a different section on the website.

This is the card that says Congratulations to the happy couple and can take all the "Bling" you can muster.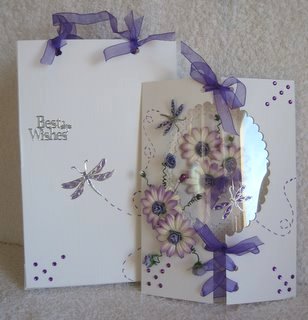 Whether it's flowers, gemstones, pearls, charms, feathers or leaves, it can really shine under your touch.

Click these two links for instructions on how to make this Bow Front Card....
...and the Matching Box.
Whatever the color scheme the card will look good with a plain white or cream background, and then add the colored accents.

The flowers, pearls and ribbon all match the card.

And don't forget you can always make it in a different shape, for the "WOW" factor.

And again make the box to complement your creation.

Try the Side step card, or the double option,

Easel cards are very easy to make, and can look really good dressed for a wedding.

Then there is always the lovely Word book and they can be adapted anyway you wish, for a truly stunning card.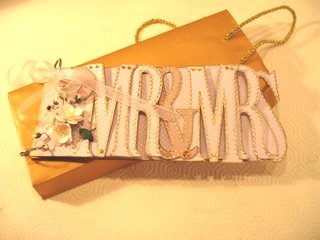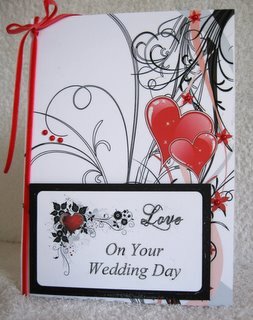 And if pastel colors are not the scheme then you can always go for the more modern trend of red and black.

You could even go for a smile inducing card and try some cartoon type characters.

This one has been made into a Big card, and folded with a velcro closure.

The paper flowers are punched out and sparkled up with Glamour dust, as is the Brides veil and bouquet.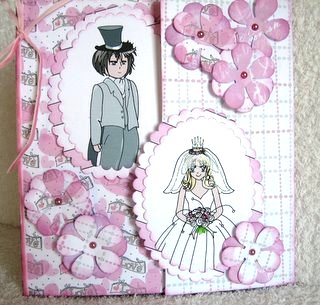 Pearls have been added to the flower centers.

Some lovely ideas for Wedding Day Cards and all the links take you to the instructions for the individual cards
Return from Wedding Day Cards to Homepage

Search
Custom Search