Some easy ideas for Aperture cards.

Aperture cards are very effective if you want to show off a particular element on your cards.
They come in may shapes and sizes and there are many dies on the market that will create an Aperture very easily in your card
It may be a flower or a pretty picture, but place it in the opening and it will take centre stage.
This dolphin is suspended from cotton, and he spins when the card is open.
You will need two opposite images to do this as the back would be on view too.
To create your opening you will need to measure carefully the front of your folded card.
Use a metal ruler and measure equally around all four sides, then with a sharp craft knife carefully cut away the centre bit.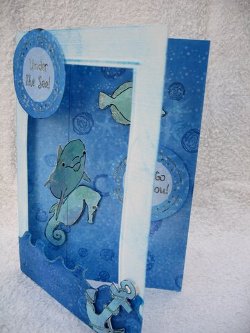 ---
---
You could use a template to get the same result and if you don't have a steady hand it will give a better finish.
If you have a scoring board then it's even easier for you to do.
And the instructions that will come with your board will simplify things even more. I use mine daily and it saves a lot time.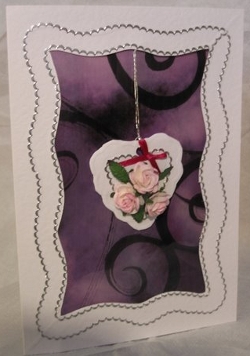 This card was cut out using an embossing board and the opening is filled with acetate, with a swirly pattern printed onto it.
The heart is decorated with paper flowers, suspended on silver thread and allowed to hang freely in front.
A very pretty card to give to someone, with any sentiment on that you wish.
Maybe a Mothers Day card or a special Birthday, the choice is yours.
Have fun with Aperture Cards and remember to add...
"Handmade by....your name..."
on the back.
Magic!
Return from Aperture Cards to Homepage