Eyelet Setter

An Eyelet Setter is something to consider if you wish to use this technique of using eyelets a lot on your designs.
It is is a really useful tool to buy and comes with various  price tags
Although  you can buy a small setter and use it with a hammer and get  adequate results, it is rather noisy to use, not a good idea if you have a headache...
It can also damage your work  surface if you don't use it carefully. Not a good idea if you are on your best dining room table 
It's wise to shop around if you prefer the more sophisticated models as you are sure to find a bargain somewhere.
Made by the same company, We R Memory Keepers and is the big sister of the "Crop-A-Dile".
This is the desk top version and it is totally free standing.
It also makes two different sizes of holes.
The rubber feet on the bottom of the stand stop it sliding around.
I keep it on my work surface all the time, so that it is always ready for use.
But this is the more expensive one to buy.
It really is down to your own personal choice and your budget, but I am sure you won't regret your purchase once you have made it.
You can make many pretty designs on your cards with this useful piece of equipment and then thread ribbon or laces through the holes you create
You can of course buy other makes but this one is my choice and the rubber handles make it comfortable to grip and use.
There is also a good selection of tools and eyelets from
Craft Stash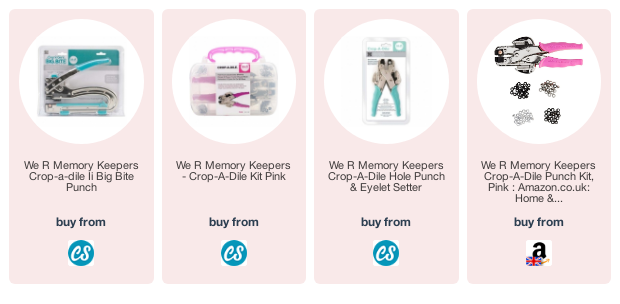 Cardmaking Equipment

Eyelets 

Embellishments

Cardmaking Ideas

Easy Projects

More Projects

Papercrafts

Novelty Cards

Kinetic Cards

Cardmaking Occasions


Cardmaking Tutorials

Useful Resources

View all Pages and Topics

Return from Eyelet Setter to Homepage