Elegant Cards


 I agree that sometimes simple Elegant Cards can be the better idea ... but only sometimes !
I am a "Bling" girl and I openly admit that  "More Is More"  for my style of cardmaking.
I love adding all sorts of embellishments to my cards, flowers, ribbons and pearls
This card would be equally as good used as a birthday, thank you, or invitation card.
The elegance comes from using good quality card and leaving lots of white space around the image. And of course just a little "Bling"
And it goes without saying that by "good quality" I don't mean expensive.
There is a lot of Card  around with good weight that will fit the bill perfectly.
 I buy most of my card from the Papermill Direct and I use the 255 gsm card the most
But to keep the theme to elegant cards just limit what you put on it.........(very difficult for me, coz I throw everything onto my efforts!!)
---
---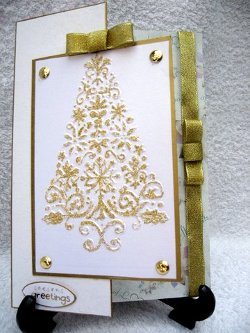 A simple Christmas Tree can look stunning is just cream and gold
Add a Gold ribbon along the edge and the top of the tree to keep the card to the season it's meant to be for
The tree has been stamped and heat embossed in gold powder for a really sparkly look and  this card would look good on anyone's mantleshelf
A lovely sentiment on the front and maybe a Christmas verse for the inside and it's ready to send to someone you care for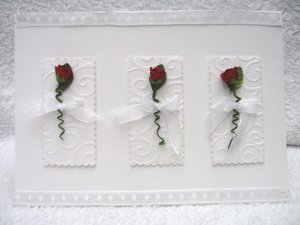 And how about this for that special birthday for a girlfriend, fiance or wife....
Maybe you can't afford the real Flowers on Valentines day, but these little paper beauties wouldn't break the bank.
And the card would be sure to please any one that recieved it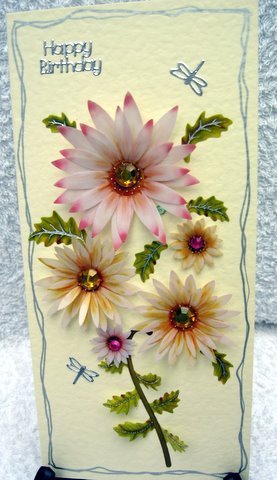 These flowers are in two layers and Acetate has been used to give movement to the petals and the addition of the gemstones in the centre of the flowers enhances them
The dragon flies around the flowers  are silver peel offs
Some simple Doodling around the edge of the card with a silver pen, and the peel off sentiment... "Happy Birthday " ... would let your friend know she is loved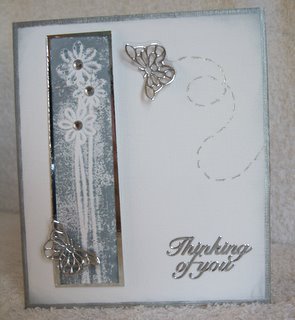 And in every cardmakers time there could be an occasion when a Sympathy card is needed and this is the time to keep it elegant
This card is very simply a white square with an embossed flower detail on the panel mounted onto silver mirror card.
The butterflies and sentiment are also in silver and keep it all to the same theme.
Very plain but can say so much 
Return from Elegant Cards to Homepage