Create Distressed Paper 
Distressed Paper can be as unusual as you want to make it, and this simple technique is explained in steps for you to follow.
The backgroung paper on this card is achieved using the distressed paper technique, and is really easy for you to try.
All you will need is some ordinary printer paper and an ink pad in the color of your choice.
And of course any "Bling" that you may wish to add to the finished card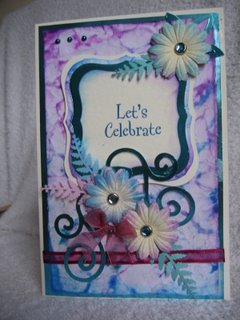 Step 1
Take the ordinary ink jet paper and scrunch it up.
Make it as crinkly as you can and then open it out again
Step 2
Then take your ink pad and rub it gently over the scrunched up paper.
I have used a Tim Holtz Distress Ink Pad, but any dye ink will have the same effect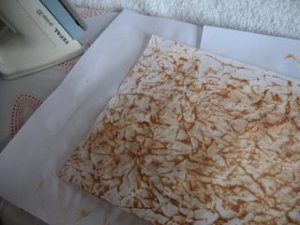 Step 3
You will then need to "spritz" the paper to make the ink run.
Make it quite runny and help it along by tilting the paper slightly from side to side.
Now you can either leave it to dry naturally, or help the process along by ironing it dry.
Cover your ironing board with plain paper to protect it.
Once the paper is dry you can repeat the process if you want to distress it even more

Step 4
Trim the dried paper to the size you want it and...
the next step is optional.
...you can add some Sparkle if you wish, just to glitz it up.
I used "Spray and Sparkle".
I also inked the edges of the paper in the same dye ink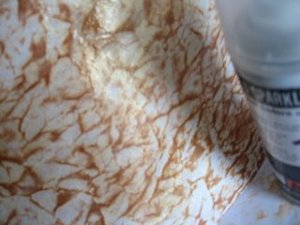 Step 5
Layer it onto some mirror or glitter card  to match your color scheme
Play around to create your paper in any color that you prefer, and achieve some really pretty fantasy papers
Then once matted add it to your cards for some lovely results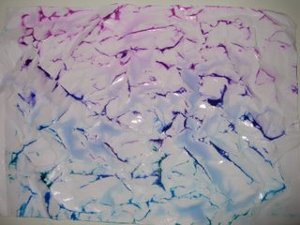 This is the paper used on the featured card is my favourite and was made using the "Big and Juicy" rainbow ink pad, which again is a dye ink.
It has been cut to the size I need and then sprayed in silver and mounted onto a turquoise mirror card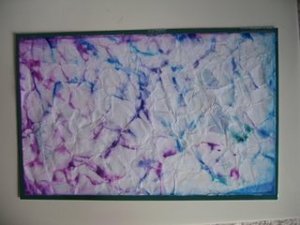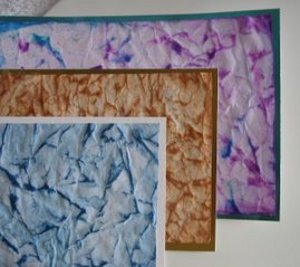 So there you have three completely different looks to the Distressed Paper, and all from the same technique, fun to create and add the magic to your cards
And of course you can create many many more and keep them stored until such time as you need them

Brayered Paper

Glitter Glue Topper

Cardmaking Techniques

Esay Cardmaking Projects
Return from Distressed Paper to Homepage