A Handy Little Button Maker
This handy little Button Maker will be a very useful gadget that will give me something different on all my cards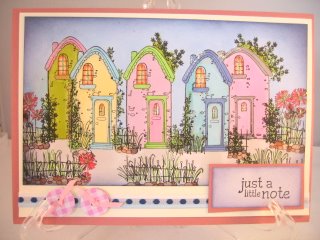 If you enjoy adding buttons to your projects and can't find the matching shade that you need... then look no further than this handy little gadget.
This card has had some buttons added to the bottom of the made from Gingham paper and then threaded with velvet ribbon through the holes. 
---
---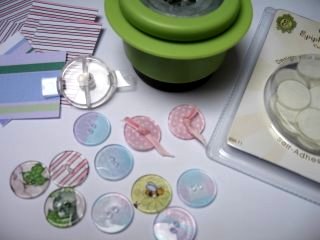 It will give you what you want because it uses the same papers you have used to make your card.
And it only needs the tiny scraps that you would otherwise throw away.
So another reason to throw nothing away... as if I needed a reason!!
It is available from  Epiphany Crafts.

You will find gadgets for different shaped buttons and lots of other embellishments too.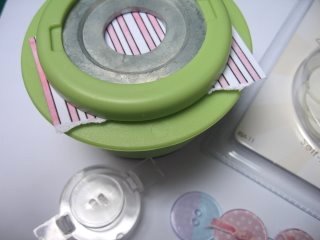 All you need to do is open the lid, and slide the smallest piece of paper from your project to the base of the gadget.
Position the paper so that you can see the pattern.
You can place it exactly where you want the pattern to appear on the button.
Remove the white backing paper from one of the buttons that come with the kit, and add it, with the sticky side facing your paper, onto the little plastic insert with two prongs. 
Place this, so that the sticky side is facing onto your paper scrap, in to the base, close the lid and press it down.
And then when you open it back up the button is coated with your paper and ready to be tipped out of the machine. 
Thread some ribbon through the holes and add it to your cards .... or scrapbook pages for a really neat look.
I have added one to the top or the bow and the other to the centre of the flower petals.
Return from Button Maker to Homepage
---
---