Simple Xmas Tree Cards...
...Made from Triangles.
Try these Xmas Tree Cards.
More super easy ideas for using Triangles and ideal for using up your scraps as it takes very little to make them. 
Your trees can be tall and thin or short and fat it doesn't really matter as long as they are pretty 
If you want to make a card in a hurry and your "stash" is on the lean side, then what could be more simple than these lovely cards.
They are made very simply by cutting out a long triangle from some pretty paper and then Matted and Layered  onto some silver mirror card.

The base to the card is some white Glitter Card. to represent the snow and I have added Peel Offs along the edges.

Add some Sparkle to the trees with a Quickie glue pen and some Glamour Dust.

The fold is an easy Tri Fold card click the link for the instructions on how to make this if you are new to cardmaking

(The third panel has been removed and kept for another project.)
There are lots more ideas for you for other occasions too just have a browse through the videos tutorials section and see what you like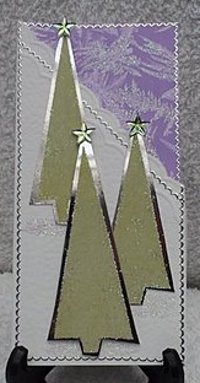 Your trees can be any colour you want them to be.

You don't need to stick with Traditional Christmas colours of reds and greens.

You can make them funky in pinks and blues.

Add some Christmas themed  backing paper to compliment your chosen design
Glue on some star shaped Gemstones to the top of the tree for added sparkle then attach them to the card with foam pads, or silicone glue to raise them up.

The spine to this card has been wrapped in silver tinsel and a silver snowman Charm has been added to the bottom with a matching brad.
Make your trees as big or a small as you would like them and embossing the mirror card in a folder will give extra texture to the trees
All adding to this special theme. Quick and easy to do especially if you make them for charities or maybe you just have lots of friends that will be getting a card from you 

This is an easy way for new beginners to make some trees in a quick and simple way but If you are lucky enough to have some dies then you can cut out lots and dress them up anyway you wish.
Make them pretty and send them with love and  you're Xmas Tree Cards are sure to be a hit with your recipients 
Return from Xmas Tree Cards to Homepage