Ultra Thick Embossing Powder ...
What's that?
Ultra thick embossing powder is a good one to add to your stash, and here's one way to use it.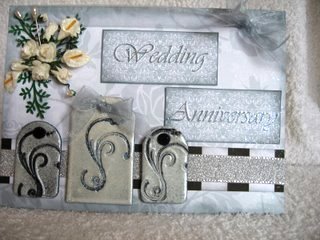 The tags on this card started life completely differently, and with some Ultra Thick Embossing Powder (UTEE as it's called) they look pretty good.
They where freebies from a magazine and never used for their intended purpose.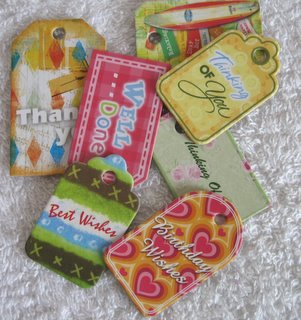 So rather than throw them away, I decided to re-cycle them with the aid of some UTEE.
The granules in this product are thicker than ordinary embossing powders, and they give an enamelled effect when heated.
I have used a Pearl effect powder for my tags.


---
---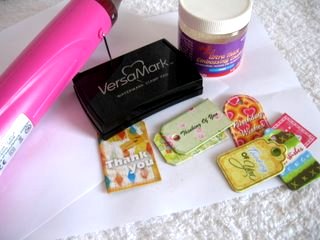 You will need something to make the powder stick to your object.
I used VersaMark and coated the tag with it.
It's better to use some cardboard, chipboard or Grungeboard for this as paper and ordinary card are too thin.
Sprinkle on the first coat of UTEE, and with the heat tool melt the powder.
Whilst it is still hot repeat the process 2/4 times, until you are happy with the result.
(The heat from one layer helps the next layer to melt.)
This will give a really thick coat to the tags.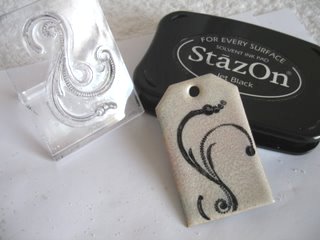 When you are happy with the appearance and it has cooled down, use a permanant ink pad (StazOn) and a stamp of your choice, and stamp the image onto the tag.
I also inked the edges with the same pad.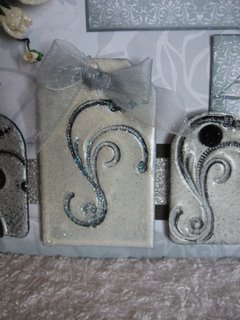 I ran the Quickie glue onto the lines and added Diamond Dazzzles for added effect.
I used black velvet Brads to the two smaller tags, and silver ribbon to the largest.
All where added to the card with foam pads to raise them up.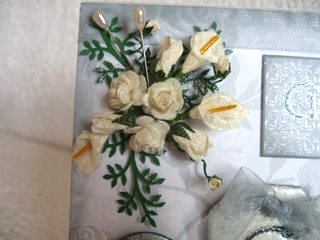 I chose white flowers and buds.
And to curl the stems on the buds...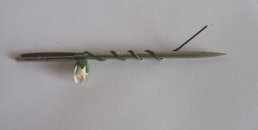 ...just twirl them around a pencil or crochet hook and then slide it out.
Add the flowers to the card with silicone and poke the stems, leaves and Decorative Pins into it to hold them securely.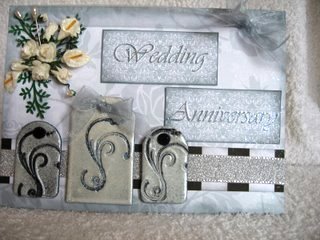 The "Wedding Anniversary" sentiment has also been sprinkled with the glitter and the spine wrapped in silver organza ribbon.
Give it a try, Ultra Thick Embossing Powder has many uses and this is just one idea.
Return from Ultra Thick Embossing Powder to Homeapge