Save The Date Cards...
For your Wedding Day.
Save The Date is one of the additions to your Wedding Stationery.

Search
Custom Search
This card is the fore runner to the actual invite and can be sent many months in advance.

But if your wedding is only a short distance in the future, or perhaps cash is short, then this is one of the things that can be dispensed with.

It is simply a card that is sent out asking your friends and relatives to keep the date, that you have decided on, free to attend your wedding.

It can be as intricate as you wish, but if you have hundreds to send out then the best advice I can give you is to Keep it Simple...

They don't really need an RSVP attached to them as an invitation will follow on and then your guests can make a firm commitment.

A plain white or cream card for the base is always an elegant way to start.

Team it with gold or silver and it will be a winner.

It can then be dressed up with a hint of the colour to be used...say for the bridesmaids dresses, or the floral bouquet.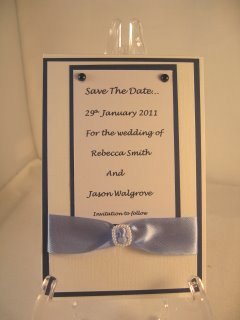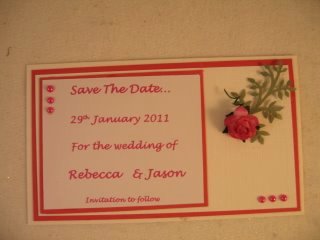 But before you start to make them just ask your self ....."will the invitations be going out in the next few months....and if they are do I really need to spend more money on Save The Date cards" as well.

Return from Save The Date to Homepage

Search
Custom Search
---
---