Altering Ribbons ...
To suit your projects.
Always have a match by altering ribbons to suit your projects.
Do you like to add lots of ribbons to your cards? And are you often stuck because you can't find one that matches your colour scheme?
Do you also find that the cost of ribbons stops you from using them as often as you would like to?
Yea! Me too ....so here is what I do to make an everyday inexpensive ribbon match what I need it to do.

I buy seam binding, just in white and then colour it myself to suit my project.
This was a 100yds roll and it was not expensive.
I also have Distressing Inks which are a water based ink.
But you can use any water based ink pad that you have.

Dab the ink pad onto your non stick craft mat or aglass cutting mat. and spritz it with clean water.
The ink will form droplets on the mat and the colour will deepen.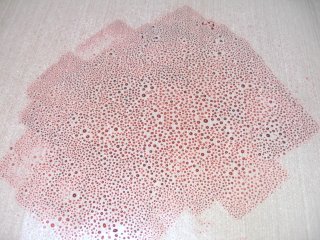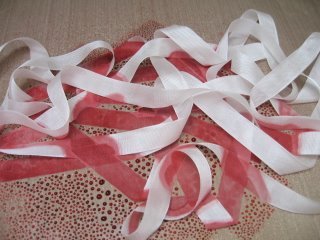 Take a good long length of the seam binding and add it to the dyed water on your mat.




Swirl it around and re spritz as needed until all the ribbon is coated in the colour.
Mix more colour if you need to.
Then either set on one side to dry or...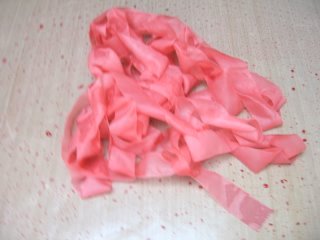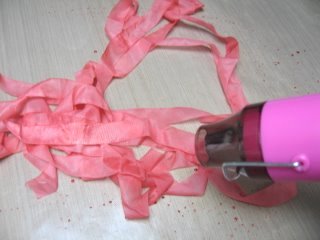 ...take your heat gun to it and dry it quickly.
This technique wont work on organza ribbons and they will burn with the heat gun.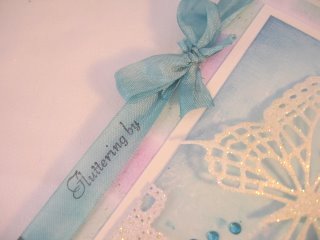 ..and then add it to your cards for that extra personal touch.
You can of course add the sentiment to other kinds of ribbon, and try colouring them.
But this is such a cheap way to give yourself lots of ribbons and seam binding is definitely the "In" thing at the moment
Stick to white and you can dye it any colour you want.

Have fun but when you are altering ribbons ..... wear rubber gloves or you could end up going out to dinner with blue hands ...just like I did !!!
Return from Altering Ribbons to Homepage