Paper Punched Lace

Paper Punched Lace is another way to use the tools you have.

Search
Custom Search
Many of us like the idea of adding lace to cards, but maybe the real thing is not available in your part of the world.

It can also become expensive to use the real thing so I have added some alternative ideas for you to try.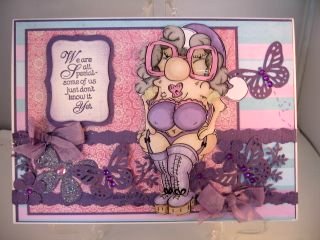 One of them was to buy cheap paper doyleys and make your own version of Paper Lace.

And this is another making use of any flower, leaf or butterfly punches that you have in your "Stash"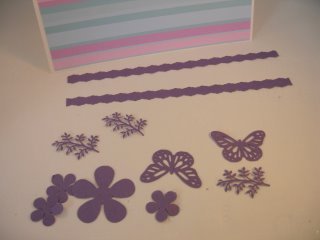 You will need two thin strips of card, and several different shapes from the punches that you have available to you.

I cut my strips using a fancy blade in my Paper Trimmer.

I added some pretty paper to my base and matted and layered it with the same colour card as the strips.

Add the strips to the card as shown in the photograph but make sure they are only as wide apart as the largest punched shape that you are using.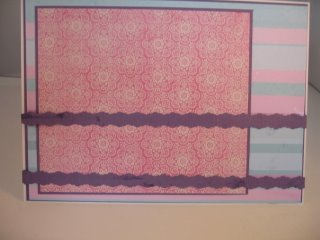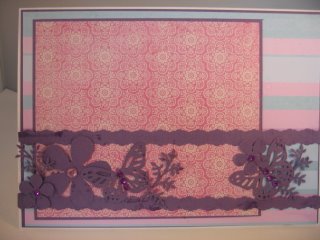 Add the punched shapes randomly over the borders using your chosen glue and decorate them up with glitter or gemstones as you like.

Then add your topper and sentiment to the front of the card.

I also added ribbons to the border, and some Glossy accents to the spectacles.

And the character is "Maude" from the wonderful "Wrinklies" section from Just Inklined.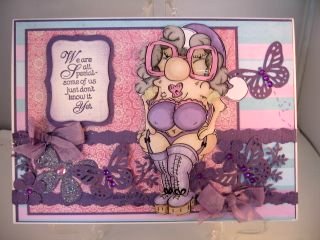 There are so many fabulous characters in this section you will find one for any occasion you can think of.

I hope you will try using this technique to make your own Paper Punched Lace, or any of the other ways to get the same lacy look on your cards.

Return from Paper Punched Lace to Homepage

Search
Custom Search