Pyramage cards...
...easy peasy!
Do you want to add some layers to your creations? Then try Pyramage cards.
 Decoupage is very pretty but can be fiddly, so why not go for the easy option instead.

This is a much easier way to achieve the look especially if you're scissor challenged...like me.

All the cutting out is boring for me so I choose the easy route whenever I can.

This technique is using ever smaller image layers to build up your design.
The layers have been cut with Nestabilities and they all sit (Nest) inside each other
There are many designs and you can browse around Spellbinders  website and see which ones you like
You could choose a square or circle, perhaps you want to be a bit more adventurous and try octagon or diamond shapes.
To start my project, I printed my image from a CD, and there are many good ones on the market.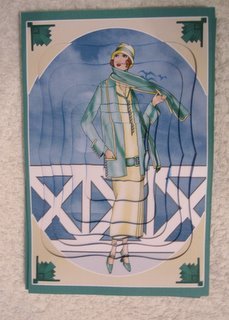 This lady is from "My Craft Studio" CD, and she has many lovely friends on the same CD.

This effect has been achieved with Spellbinders dies.
I have printed out my chosen image seven times to give identical sized pieces.


(You can print out as many layers as you want to work with...you may choose to work with just 3 or 4 instead...the choice is yours)

Keep one full image as your base layer.

I have used the Labels Eight , and there are six individual dies in the set.
The smallest die is always number 1 (#1) with any Spellbinders sets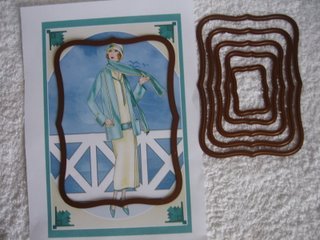 Each one of the dies has been used to give me ever smaller sections.

Please don't throw away what you have left, because with this we can create the opposite effect to make an  
Invertage Card
Once you have all the pieces cut out, then ink the edges with a pad that matches your color scheme.

This just helps to define the edges of each layer.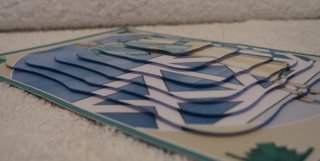 Then with silicone, foam pads or Pinflair Glue Gel layer the panels together, onto your base image.

This will add the height to your card.

Match up the image on each layer carefully. You are creating a pyramid with the paper to create the height to your design. 

Once you have all the layers to your Pyramage Card  in place you can finish it with any embellishments you have in your own personal crafting "stash" and make the card as pretty or sophisticated as you wish.
Adding in ribbons, flowers and pearls will make it really feminine for all your girly friends and it is suitable for any occasion too
Return from Pyramage Cards to Homepage