Birthday Cards for all Ages

We may not admit to our ages ... but who doesn't like to receive Birthday Cards
There is nothing more special than birthday cards, and we all love to receive them no matter how old we get.
It tells people you care or that you are cared for.
And what could be better than a handmade one?
This is a very simple card for you to make...
Either buy ready folded card blanks or take an A4 card and fold in half.
If you have a scoring board then use the "half-fold A4 card" groove.
Fold in half and press the spine with the bone folder.
(The back of a spoon or scissors handle will produce the same sharp crease) You now have an A5 sized card.
Place a large peel off along the upper left side of the card.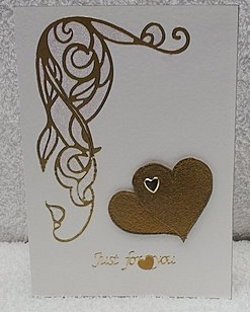 Using a glue pen fill in the spaces on the peel off and sprinkle with the holographic glitter.
These extra large Peel offs are from the Glitter Girls
The two hearts are cut from a spare piece of card.
It gives them more substance than paper. Use a stencil or a scoreboard to cut these out.
If you are brave enough, then you can do them free hand. Go over them with the glue pen and while the glue is still wet, sprinkle on some Gold embossing powder.
Use a heat gun to melt the embossing powder.
This is truly magical as the powder melts, it goes from dull and powdery, to a beautiful shiny raised surface.
The picture does not do the effect justice.
Please don't use an ordinary hairdryer, because all this will do is blow the powder away. The power from one is just too great, and heating tools are not expensive.
Attach the Hearts to the lower corner of the card with a gold heart shaped brad.
Just make a little cross, with your craft knife, on the hearts where you want the brad to go through, and on the card, where you want the hearts to go, and poke (technical term) the brad through, opening the pins on the inside of the card.
The sentiment is also a peel off.
(My writing leaves a lot to be desired).
You could choose any you wanted. I used "Just for you...." but yours could say Happy Birthday, Get Well Soon, Happy Mothers Day, or anything you wanted it to say.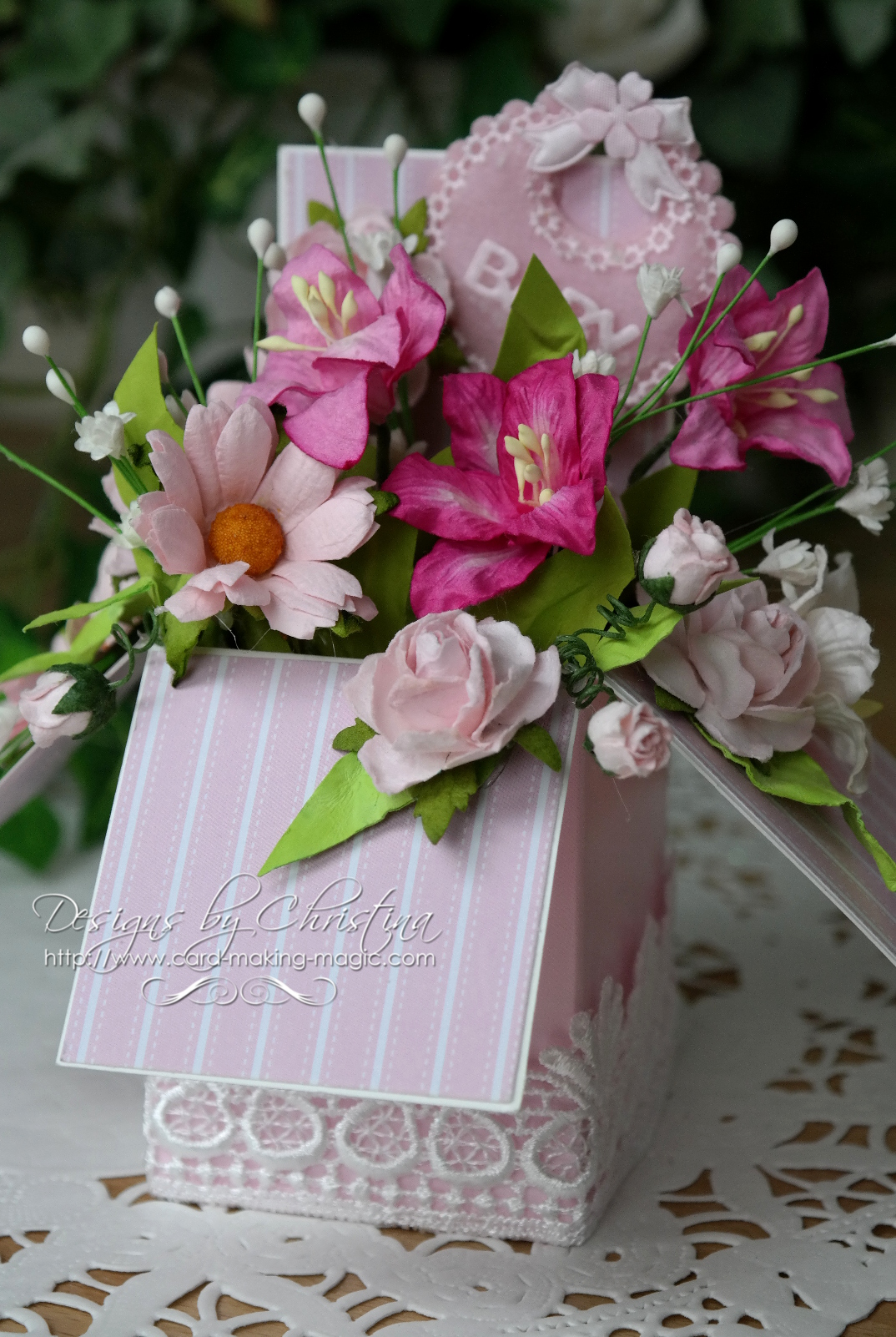 More ideas for Birthday cards...
Create a beautiful Pop Up box card and fill with paper flowers that you have made with your dies.
For this one I have used mulberry flowers and the look is rich and elegant
Add some of the lace to the bottom of the panel with glue dots.
(Try not to make it look wonky like mine)
Birthday cards like this one would suit any age group, from teenagers to pensioners!
You will need to add this style of 3-D card to a box and I have just the instructions to show you how both with and without using dies.
Another pretty idea for birthday cards to suit any age group is this turquoise heart.
This heart shape is done with rubber stamps and the gold heart is created by embossing.
And because my handwriting is not neat the sentiment is a peel off.
They are very cheap and there are lots of them to one sheet. So you can use them everywhere for a neat professional finish.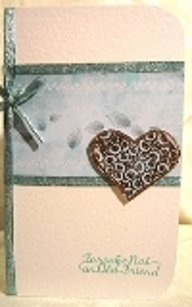 Just stretch your imagination for more ideas for Birthday cards. Let it run loose and come up with magical ideas for yourself.
And what's more enjoy yourself!
Here's some more ideas! 
All these card ideas would suit any age group, and they don't have to be just for Birthdays either.
Who wouldn't be thrilled to receive a card made by your own fair hand.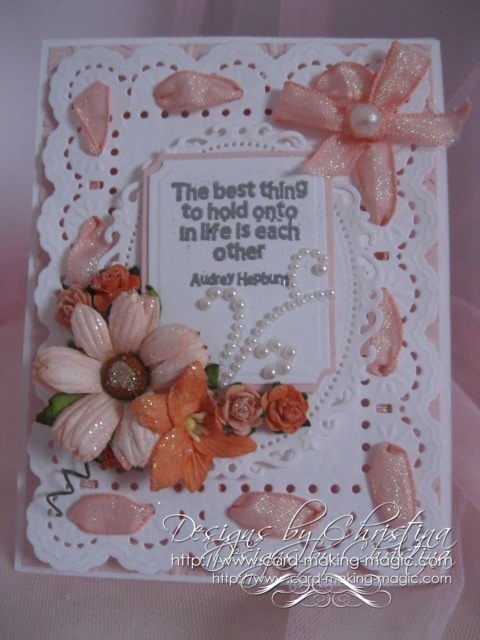 Oh! and don't forget to put on the back ...... "Handmade By ..... Your name "
... to let people know it's from you.
And maybe you like to incorporate a gift with your card then for some really special ideas visit
Return from Birthday Cards to Homepage