Twister Cards...
... Decoupage from a different angle!
 Try these Twister Cards, easy to do but not as fiddly as decoupage.

Decoupage gives a lovely effect, but cutting around all the tiny areas can make life really difficult.

Especially if you have dexterity problems to start with, or like me you just can't be bothered with all the fiddly bits.

Well this is one way to achieve something unusual without all the snipping.

The pieces are all cut straight but they are smaller with each layer.

The effect is created by placing each layer at a slightly different angle.

Ink lightly around the edges with a matching pad and then raise each layer up with foam pads to create the depth to the image.

This card was created using the Gatefold card idea and makes a very pretty card for a Birthday or even Christmas.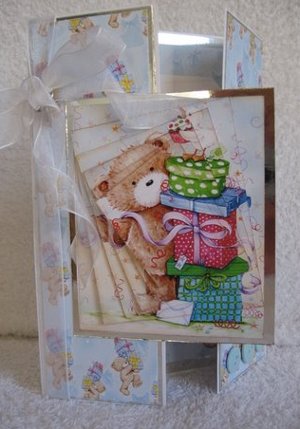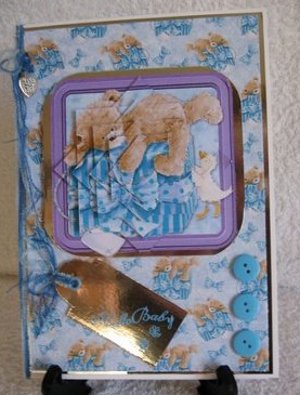 Let me introduce you to "Popcorn" the bear.

He is really lovable character and is off a CD from Crafters Companion.

There is no need to worry about being able to place the layers correctly, because all the measuring is all done for you on the CD.

The layers and the backing papers are all there for you to print and go to create some very lovely cards.
They can be made for any occasion and children will adore the teddy bear.
He and his friends are featured in a lot of different ways and you are sure to find something that is applicable to your project.

Return from Twister Cards to Homepage

Search
Custom Search