Tri-fold Card Inserts...
...To Finish Your Creation


Here is an easy way to create some lovely Tri-fold Card Inserts, because all your creations deserve a neat and tidy finish to please you and the recipient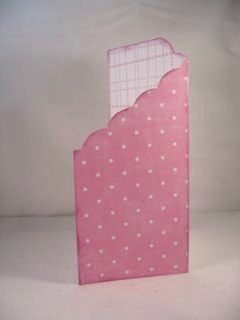 On a previous page we have covered  Card Inserts  for a standard sized card, but sometimes you may want to make a card with something a little different.
But it still needs to be finished off neatly, and you may want somewhere to add a special sentiment or a meaningful verse.
So on this page we are covering how to add that insert to your
---
---
It is relatively easy if you just  want to add separate small panels to each of the folds, and this is can be a really good way to add in that little verse.
But another way is to add an insert to the back fold in the card.
Here I have folded another tri-fold from a matching piece of paper, and removed the extra bit that I don't need so that it fits the shape of my card base
Then with some wet glue or a string double sided tape I have attached it to the inside of the card.
Just run a strip of the glue or your tape along the inside edge of the paper and attach it to the inside front of your card.
Now when the card is opened the insert will open too.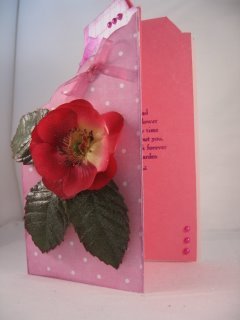 The verse can be stamped onto this panel, and the rest of the card can be dressed accordingly to suit the ocassion or your recipient
And to save your sanity when stamping there is a short video to show you how to get the best results  ... Tips for Perfect Stamping 
I have shaped the top of the Tri-fold Card insert to blend in with the back panel and added some flat backed pearls to it as well.
Now the card has a verse that will please the recipient and the card itself has a more professional finish to it.
The style will fit into a standard sized DL envelope which saves on postage costs too
And if adding an insert is really not your way to make cards then you may find the video ... Making Cards My Style ... more to your way of working
You will find lots of free verses for you to download to your PC and then  print off as you need them at Verses4Cards

Cardmaking Ideas

Cardmaking Occasions

Easy Projects

More Projects

Papercrafts

Novelty Cards

Kinetic Cards

Cardmaking Tutorials

View all Pages and Topics

Return from Tri-fold Card Inserts to Homepage.