Stand Up Cards


Ever made stand up cards and can't make them stand?
I have ...until I discovered this easy way to get them to do what I want.

These won't fall over... another easy project for you
This step by step tutorial will help you get the result you want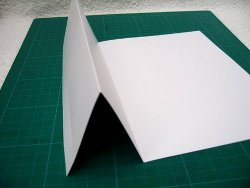 Take your A4 card and lay it on your cutting mat . Fold in half and crease it sharply.
Look in card blanks for tips on how to do this neatly.
From the short edge measure in 7.5cms, score and fold the opposite way, and your card should now look like the one in the photo.
Then turn it over so the fold is the other way


Open the card out, with the wrong side facing upwards, and from the centre fold onto the largest side measure in from the outer edges 1cm and 6cms, and leave a pencil mark.
Then measure up the card, from the 6cms dot, 5cms and make another mark. Join up the marks along the spine and up the long piece to give you an angle that is 5cms along each side. From these two lines make a dotted curved line.
You will have marks that leave a 1 cm gap on each of the outer edges, as in the  photograph
This curved line and the one along the spine need to be cut. But don't cut the one that goes up into the biggest part of the card as this just needs to be bent back on it self
---
---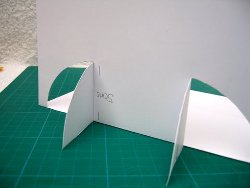 Your card should now look like the one in the photo and when these two flaps are bent the card will now stand up by itself.
Don't worry about the two holes because when you decorate the card these will be covered by your backing paper and won't show at all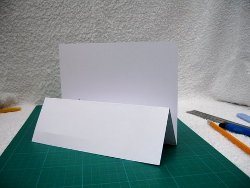 When the card is turned around this is what you will have and of course it is now ready for you to decorate as you want.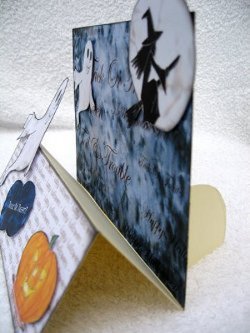 With the back of the card covered in your chosen design the openings for the two stands won't show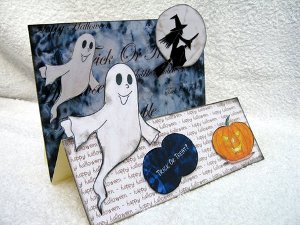 This picture gives you some idea of the layout of the elements I chose.
You can make  stand up cards for anything you want.
Maybe a flower  scene, or for Christmas, with snowmen and Santa Claus on the front
Let your imagination wander and see where it takes you
Halloween Cards

Shaped cards

Easy cardmaking projects

Harder Projects

Cardmaking Ideas

Cardmaking Occasions

Novelty Cards...lots of fun!

Kinetic Cards

Papercrafts

Embellishments

Cardmaking Tutorials

Resources

View all Pages and Topics


Return from Stand Up Cards to Homepage