Spring Lambs Card...
...Another fun card to make.
Make this Spring Lambs card in no time at all.
Search
Custom Search
Here is another fun card for the children to make, and with some extra

Embellishments to finish it off.

A little bit of handrawing for the features is all you need and you don't need to an artist to do it.
The kids will love making the lambs frown or smile.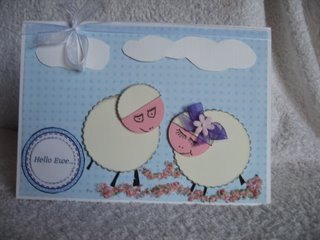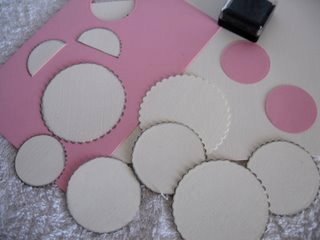 You will need some white and pink card.

With a scalloped punch, or dies, make two large circles for the bodies form the white.

From an ordinary circle punch, cut two pink ones for the faces.

Cut another smaller scalloped circle for the lambs top knot.

Add background paper to the base card. (I used a blue and hand cut some of the white card for clouds.)

I also used foam pads to raise each of the elements up from the other.

Add the two bodies to the front and add the heads at a jaunty angle.

Add the smaller half circle to each head for the top knot.

Make a small bow and add to the lady lambs head, attach a flower too.

Draw in some cheeky features to each and some feet at the base of the bodies.

As a finishing touch to my card I added some Flower soft around the feet.

The sentiment was done on the computer and added with foam pads.

Happy crafting with the kids!

Return from Spring Lambs Card to Homepage

Search
Custom Search