This Single Flower Card...
... is quick and easy to produce.
This easy Single Flower Card uses the smallest amount of materials and takes very little time to make but ends up a very pretty card in next to no time 
Time is short and someone has just asked you to make a card for them right  NOW, and all you have to hand is some ink, one flower stamp, a verse and some odds and ends in your  "Stash"
You don't want to disappoint them and you do want to come up with something  special ...  but you don't know where to start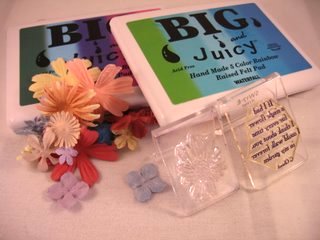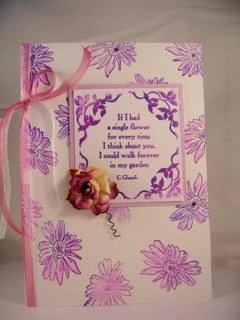 Well the easiest thing to do is to take some of your plain white cardstock and  simply fold it in half.
Then with the ink pad, stamp the flower design all over the front in a random way.
Allow some of the stamp to overhang the edge of the card.
I have used the "Big and Juicy"  water based ink pads as they give you several different colours on the one pad.
Excellent value ... and moving the stamp around the pad will alter the colour.
With a little water on a brush you can give the effect of  water coloring by going over the edge if the flowers and sweeping the color towards the centre of the flower
This ink pad  is called  "Hydrangea"
The little stamp verse is from Clarity Stamp and comes complete with the handle
Do Not store these ink pads upside down or at an angle.
All the ink will flood to one side and the pad will then  be ruined
This ink pad is called  "Waterfall" was used to produce this card and the colour scheme makes it look different.
And again with a small brush, and a tiny amount of water I have brushed in the ink from the edges of each flower to the centre.
The sentiment was stamped from the same pad and Matted and Layered onto silver Mirror Card.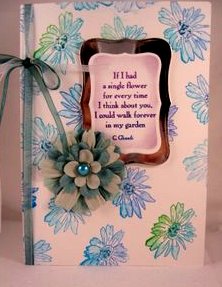 Then raid your stash and see what you have to adorn the card.
Any Embellishments can be added to put your individual touch to each card.
I have added tiny gemstones to the centre of each flower and tied ribbon around the spine of the card
One large flower has been layered up in two shades and added with a pearl centre to the side of the verse panel  making a very pretty Single Flower Card
Remember to add "Handmade by ....your name" on the back and give the card with pride


Choosing Inks

Cardmaking Ideas

Cardmaking Occasions

Easy Cardmaking Projects

Harder Projects

Novelty Cards

Kinetic Cards

Papercrafts

Cardmaking Tutorials

View all Pages and Topics
Return from Single Flower Card to Homepage