This Party Treat Bag...
...Can be filled with all sorts of "goodies".
Having a party and you want to add some surprises for your guests? Use this party treat bag and fill it with whatever you like.

Search
Custom Search
This has got to be the easiest idea ever and yet it can add some delights to your dinner table at Christmas (or any other time) with a little gift for your guests.

Everyday we use cellophane bags.
Most cardmakers have them in many sizes for storing finished cards.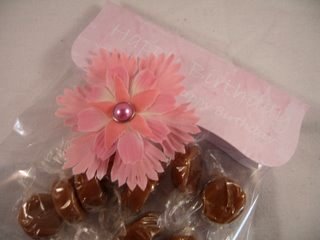 So why not put a few to another use and make these little bags.
They are especially good at childrens parties, and they don't have to filled with sweeties.

Include some balloons, a hat or a small toy. Add some coloured marbles, or a small jigsaw and see their faces light up.

Add whatever it is you wish to the bag and seal it up at the top.

Measure the bag and make your label fit across the top.

I die cut my label with the use of some Spellbinders Nesties.

But if you don't have them then use some fancy edged scissors to add a shape to your label.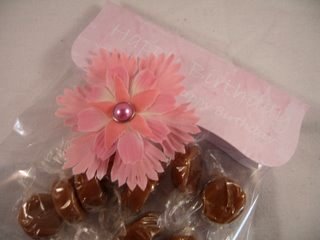 Return from Party Treat Bag to Homepage

Search
Custom Search