Paperclip Bookmark
This Paperclip Bookmark makes a super little gift.
Search
Custom Search
This easy project can make a lovely gift for all ages, but children especially will love them.

You will need some of the jumbo sized paper clips, some small stamped images and a circle punch or Diecuts.

Stamp a small image onto a circle and colour it in to suit your design.

Layer it on to a slightly larger circle leaving a small border around the edge.

Make two of these.
On the second one I stamped a small sentiment.
Lay one of the pieces on to your work surface and add a blob of silicone type glue.

I have used my all time favourite Pinflair Glue Gel.

Press the paperclip onto the glue making sure you keep the sliding end of it to the bottom.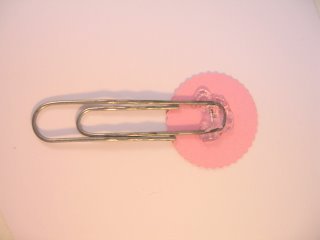 Add some more glue to the paperclip and press the other piece onto the top.

Make sure the edges are lined up.

Set aside to allow the glue to dry.
Make a batch of them and add them to goody bags for a childs birthday party.
You will be ever so popular with your kids friends, and the parents will thank you too for not giving sweeties.


Once they are dry you can dress them up with ribbons, gemstones, glitter or flowers.

Have a good look in your "stash"

Let your imagination run riot and see what you come up.

They can be added to a topper for your cards.

Leave one edge open to slide the paperclip on and off for your recipient to access.
Then when they read their books they will always know which page they are on when they return to their book.
Return from Paperclip Bookmark to Homepage

Search
Custom Search