Glass Cutting Mat
A very modern take on the self healing mats, and a glass cutting mat will last a lifetime


For many years I have used a Self Healing Cutting Mat for all my crafting needs but now the modern take on things is the glass cutting mat, and it is the best piece of equipment to use ever.

The one I have was not expensive but with careful use it will last me a lifetime.

It is from Tonic Studios and has grid markings and templates on it to show you the various card sizes.
The large 12" by 12" surface makes it big enough for all your scrapbooking and cardmaking needs.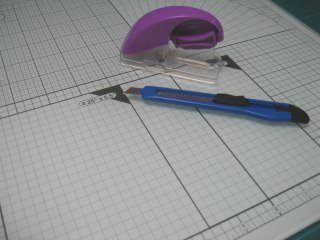 They are made from toughend glass so it will not break easily.

It is perfect for protecting your surfaces while you work.

It can be used as a paint pallet, for blending inks, or adding glitters, and it is easy to clean off when you have finished.

It won't be worried about heat tools either so you can emboss on it.

It works equally well with a craft knife or the Freestyle Mouse Cutting System. and it will not blunt your blades.

In fact they will last you longer.

It is easier to cut using one of these as not as much effort is needed.

But practise first especially if you have used a rubber mat for some time.

You will find it an essential piece of equipment if you like to use the Circular Scissors and it will help you to get perfect results everytime.

Return from Glass Cutting Mat to Homepage

Search
Custom Search