Pretty Feather Tailed Bird...
...made from punched shapes.
With this Feather Tailed Bird you can use up those punched shapes that are lying around.... and children are sure to love this little card
 This Feather Tailed Bird is another one added to the collection of Novelty Cards

They are sure to bring a smile to someone's face, especially children.

And even more so when the children have made the card them selves.

They are all easy to do and only need a little guidance from you with smaller children.

You need only scraps of left over papers or thin card and some punches to give you two circle, one slightly smaller than the other.

These need to be the same colour, for the body and head.
Choose a darker colour for the beak, wing, feet and legs.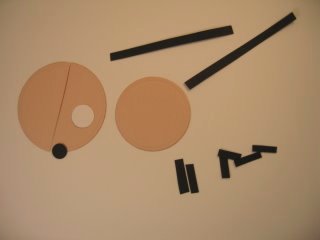 Cut three long stripes, of the darker card, and cut one of them into smaller pieces.

You will need one small white circle, and an even smaller black one for the eye. (Or use Googly Eyes)
Place two long strips of the darker card under the half body shape for the legs. I added stripes to the legs with a gel pen.

Attach the small pieces to the end of the legs for the feet.

Put the other circle on top of the body, as shown, and fit the beak triangle under the head.

The white circle and the small black one will make the eye, adding a small white dot to the centre with a gel pen will bring the eye to life.

I also added white gel pen to the edge of the wing and doodled around the edge of the card.

I roughly cut a branch shape from some brown card for the bird to sit on.

I used an alphabet stamp to create the greeting and added faux stitches to the edges.

Very easy to make and I hope you have fun making the Feather Tailed Bird in all different colours.
Let the kids make their own and use them a s invitations to a party
Return from Feather Tailed Bird to Card Making Magic Homepage