The Xyron Creative Station...
...an inexpensive piece of luxury
for your cardmaking needs.
The Xyron Creative Station is not a necessity but it is a useful addition to anyones craftroom.

It applies adhesives to your backing papers and much more quickly and easily with no mess
Now here is a piece of equipment I have hankered after for quite some time, it glues, laminates and magnetises with the quick change of a drop in cartridge

So when I was offered one as Christmas present...what could I say but ..."Yes please!"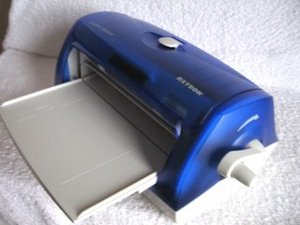 Well it would have been rude to refuse such an offer wouldn't it?

Strictly speaking it is not an essential piece of equipment, as there are lots of other ways to apply the glue you need to your papers, or other items
It was more of an "I want one of those ... " piece but it will save me some time in my cardmaking.

I like to apply ribbons and gemstones, flowers and flourishes to my creations and all of these will go through the machine and then can be added directly to the card.

The adhesive is on a cassette and is added to the machine via the top. There are full instructions that tell you how to change the cartridges for each job you need to do

The items you wish to apply the glue too are loaded onto the tray at the front, and then simply rolled through to be sandwiched between the glue and a clear film layer...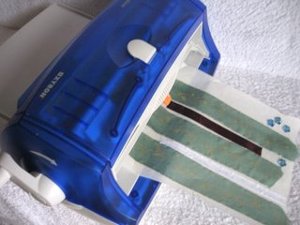 ...and when they have emerged at the back of the machine you use the integrated cutter to cut the paper, remove the clear film and use wherever you want. Simple!
Keep the wax paper for other projects as it will always come in useful
The adhesive cartridge can be easily removed and replaced by a Laminating one, to laminate your photographs, certificates, business cards or anything else you may want to do.

There is also one which enables you to magnetise your items so now you will be able to create your own fridge magnets 

Xyron have several different machines to suit most of your glueing needs.

The one I have is the size to run A4 papers through as I thought that this would suit my needs as a cardmaker the best.

I was very pleased to get my Xyron Creative Station and I look forward to putting it to good use in the future.
There is also smaller version in the shape of an X and this one is ideal to sit on your work top for any sentiments of small flowers that you may need to add.
You could also add lengths of ribbon to this version without wasting too much of the sticky strip. I got mine from Crafters Companion and they are not expensive

Return from Xyron Creative Station to Homepage