Third time Lucky!
by Valerie
(Otago NZ)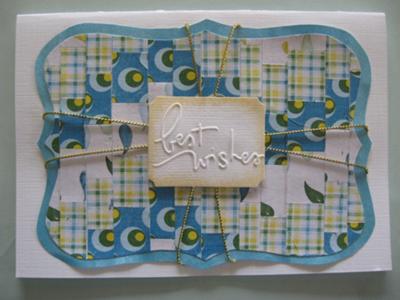 I have been trying new techniques (for me)

This is a Bargello card, taken from the needlework style.

It is done with paper strips, adhered to paper and cut into a pattern with a template. I added some gold braid and an embossed label.

Next a "quilted" card made with paper instead of material, embossed with the CB to give it a bit of a lift.

Then a Herringbone card made with strips of paper and a recycled greeting added.

Then my favourite card craft, a teabag folding card medallion made with a side cut out tile.
I mounted this on black and white papers.

Christina says ...

This is another wonderful collection to add to the stunning cards from Valerie and they are all special.

They could be for any occasion and I like the use of the recycling ... always pays to be frugal whenever we can.

And using stuff that would otherwise have been thrown in the trash can has to be good.

There are lots of ideas and styles to choose in the Easy Projects pages and all are with instructions on how to create each one for yourself.

And you will find Paper Weaving in the Techniques section in the NavBar to your left.