!st Rocker
by Gloria
(Manchester Great Britain)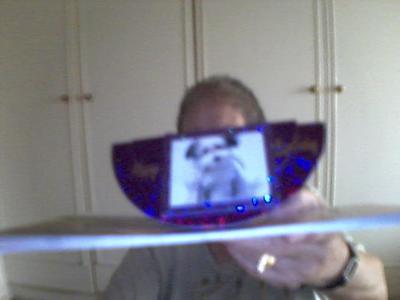 Thanks to Christina I have made my first rocker card, it is for my very good friend in Australia for her birthday.

I took an A4 card stock and cut 2 circles.

Large circle drawn around the base of my kettle, and the smaller one drawn around a CD

My friend loves Purple(good job she does) and is crazy about dogs so I hope she likes it.

Hope this comes out clear.

Christina says

How very ingenious we crafters are and it is amazing what a kettle can do... and this made me laugh so much when I read it.

Well done to you for being so clever and the card is one that your friend is going to treasure.

If you wanted to make the Rocker Card like Gloria then you will find the video tutorial in the NavBar to your left.

There are many card ideas with video instructions so that you can follow along with me and make the card.