My First Spellbinder Creations!
by Anne D
(Nottingham)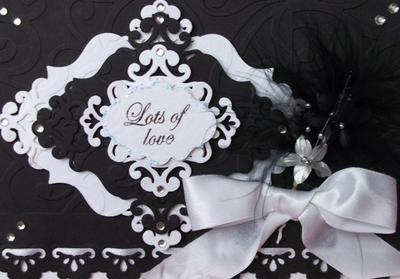 Black & White
I had much deliberation over whether I should buy a die cutting machine as I didn't know anything about which dies I would need, or indeed how to use them.

So I was delighted to find exactly what I needed to know on Card Making Magic!

Thanks to Christina's excellent guidance and inspiration on the "Starting your Spellbinders Collection" video, (without which I would have been totally lost!) I knew which dies to buy and what to do with them! I now have my very first die cutting machine, a Cuttlebug.

Following Christina's video, for the Black & White card I used the Spellbinders Labels 20 to layer up the black and white card, added a black and silver flower stem, a white ribbon bow and some gems.

I also threaded a narrow ribbon along the border. For the Brown & Cream card, I used an embossing folder and then the Parisian Motifs, with a ribbon from an old chocolate box.

Christina, thank you for all your hard work providing so much help and inspiration. I let you know on Facebook when I had bought the dies you recommended and promised to show you what I made - so here they are, my first two Spellbinders cards.

I hope you like them. Best wishes, Anne x

Christina says ...

These cards are truly lovely and I am so glad that I helped you choose the Spellbinders. I like them both and I am sure that you too are pleased with your results.

Spellbinders are the best thing since sliced bread and any card is enhanced by the addition of any of the dies that are available.

There is a whole series on using different Spellbinders in the Video Tutorials section which is in the NavBar on your left.
Click here to read or post comments
Join in and write your own page! It's easy to do. How? Simply click here to return to Card Making Gallery.
Pink Butterflies
by Anne D
(Nottinghamshire)
Oh my! Since I got a Cuttlebug a few weeks ago it seems I'm now hooked on Spellbinder dies (they chose the name well!).

I am very pleased with the results with the Fleur de Lis rectangle and hope you like my first attempt at a card using this die.

I folded A4 white card in half to make an A5 card and partially embossed the front right hand side with a butterfly embossing folder.

I cut the large Fleur de Lis rectangle from pale blue glitter card and matted the smaller Fleur de Lis rectangle on top, cut from matt silver card.

I cut a butterfly from pink glitter card (the butterfly die was free with a magazine) and glued on top.

I cut the two smaller Fleur de Lis dies and matted them with a sentiment on top, with another butterfly to one side and a Parisian accent die on the other, then finished off by adding some clear gems on the butterflies and some pearls in the corners.

Thank you for taking the time to look at my card. I hope you like it.

Christina says ...

Your card is lovely and the colours go so well together. it is clean and fresh and is sure to be a treasure by the person who receives it.

I know exactly what you mean about being addicted to Spellbinders ... me too ... but they are such a wonderful addition to any crafting stash.

And I see you get the same magazine as I and that little butterfly die that was free is such a useful gift. I have used it many times on my cards.
Click here to read or post comments
Join in and write your own page! It's easy to do. How? Simply click here to return to Card Making Gallery.