Spanish 1st communion
by Jacqueline
(Spain)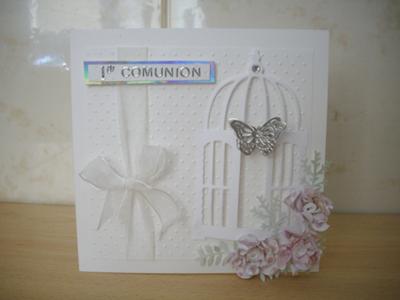 I was asked by a neighbour if I would make two cards for a Spanish friends girls 1st communion as she had so liked the card I had done for her birthday!! Bit of a challenge and hope she likes them.

I used the Marianne Bird Cage die for both of them as I thought it looked like a church!! Then I embossed white card for both and made flowers with pink dotty paper (although you cant see this!!)

I am not sure if one has a bit to much pink on it as they all dress in white and have a solemn parade around our village so will wait to see what she thinks, if so will have to alter it and try to make it whiter!!

Christina says ...

What beautiful cards and I wouldn't be able to choose between them. The embossing makes a perfect background and can really add dimension to a card.

Love the bird cages, and the flowers on both of them are gorgeous .... and Jacqueline you can never have too much pink ... perish the thought!!