Sailing Boat Card...
...to re-float your imagination.
Try this Sailing Boat Card when you are short of ideas.

Search
Custom Search
 Another easy card to produce either with children or for them, and one that is sure to delight the younger ones.

Send it as a "Bon Voyage" card to someone going on a holiday or school trip.

Or perhaps you know someone going away on a gap year from college or university.

You can make the boat in any colour you want and you will be able to use up all the scraps of paper or thin card that you have.

I have made mine in red, white and blue, with a paler blue for the water.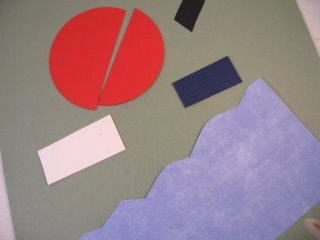 To make the boat you will need some oblong shapes in the colours of your choice and a larger circle which you will need part of.

Try to cut this just a little bit bigger than half.

The pale blue paper I have cut into a wavy edge for the water, and I have inked all the edges.

To make the card...

Stack each of the oblongs behind the main boat shape, with the smallest at the top, and add to the base card.

Make a small piece for the funnel at the top of the shapes.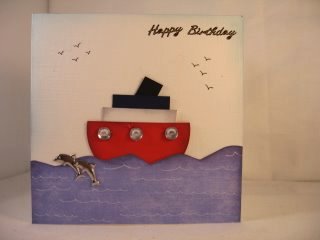 I have added some clear Gemstones, to the main body for portholes.

The blue wavy paper has been added over the bottom of the boat shape, and with a white gel pen I have added some waves.

I found two leaping Dolphins in my stash so I thought they would look pretty good....so on they went!

With a black fineliner I have added some small curved "V" shapes to look like birds in the distance, and the sentiment is a Peel Off.

I'm quite pleased with this one ...it's cute!

Return from Sailing Boat Card to Homepage

Search
Custom Search