New Home Card


Know somebody moving into their own place?...then send a New Home Card to welcome them in.
And if made by your own fair hand what more do you need.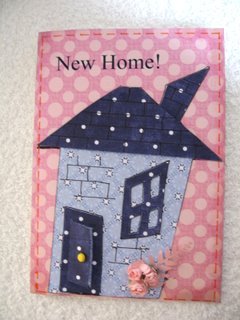 Or perhaps you have recently  moved house and  you want to let people know your new address.
This simple project is easy to make and add as a topper to your cards.
No great artistic skill is needed, because nothing is straight, in fact the quirkier the better... a real house that Jack built!!
It is a good way to use up any of your favourite scraps of paper, and anything else you have in your "stash"
All the papers that I have used are from a  Funky Hand  CD
It is a lovely card to give to someone that has moved into their first home.
Adding the handmade paper flowers around the door adds a little more charm.
---
---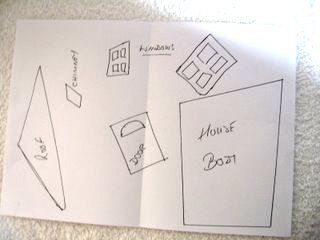 Step 1
It is always best to make your own template for the house on some cheap copier paper first.
Roughly draw the main house body shape and some windows.
Don't try to make them straight, just have some fun.
Create a door, a chimney and a roof that will fit on top of your house shape.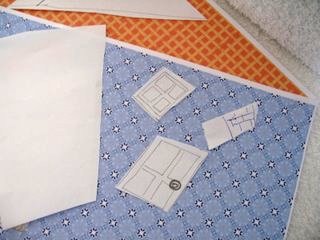 Step 2
Cut the pieces out and lay them onto the papers you want your house to be. Make each element a different paper if you want.
Make sure they all fit together onto the size of card you wish to make, and make any adjustments that you need now.
Once you have the pieces cut out then remove the centre part to the windows so that only the frame is left.
Add a backing paper to your card front first if you wish, and then arrange the house onto the front.
I added the sentiment to mine by running the patterned paper back through the printer.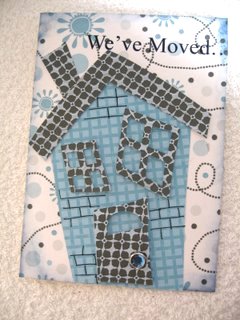 This one has a slightly different shaped roof, but on both I have drawn some brick effects to the walls and the chimney.
One is a welcome to your " New Home Card " and the other tells people that "We've Moved".
On the inside you can add the details of your new address and telephone number, and anything else you wanted to put inside it.
This is such an easy and fun project to do and is one that you could get the children involved with. 
They could then use the cards to send out invites to a party at your house ... just add all the details to the inside for the guests to know where it to be held.
They would also make great house warming party invitations and I am sure that you can think up more reasons and occasions for which this would fit the bill. 

Easy Cardmaking Projects

Cardmaking Ideas

Novelty Cards

Kinetic Cards

Papercrafts

Return from New Home Card to Homepage