My First Card
by Donna
(Bristol)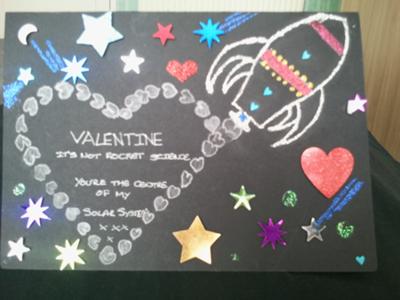 Whilst staying in hospital, every Wednesday they had a lady come in and teach us how to make cards.

I enjoyed the lessons and although I only went to three I loved it.

So card making became my new hobby and this Valentine's card is the 1st one I made after leaving hospital.

I love sequins and glitter is my favourite at the mo.

As it was coming up to Valentine's Day I thought I would start then.

My boyfriend is at Open University studying Science (Cosmology/Quantom Physics) hoping to achieve PHD etc.

He is well into it and loves it so I tried to base the card around that. He's always saying how he wants to go in a rocket so I started off with that.

Instead of normal smoke I drew lots of smoke hearts to form a big heart, added sequins, stars, moons and of course more hearts (Being a Valentines card).

My boyfriend really liked it. I was pleased as he normally doesn't keep his cards but he kept this one :)

Christina says ...

Making a card for men is not always the easiest of things to do and it can be so difficult to come up with ideas.

But if you know the man you wish to make the card for then you have a head start. Donna has incorporated her boyfriends interests into her design and made the card to suit him.

And who wouldn't be delighted with such a personal card.

This just goes to show what you can achieve on your first attempt when your imagination gets going.

And once it is going then you can achieve whatever you want to.

I am not surprised he was delighted with it and wanted to keep it as a treasure.

For more Cardmaking Ideas take a look in that section in the NavBar to your left.