Making Envelopes...
... for that Special Effect.
When you start making envelopes it is necessary to remember that you always start with a square piece of paper for these items, whatever the size of the finished product you need.
Sometimes a project calls for something extra, and that's when making your own envelopes, for that special effect, can be just the thing you need.
It is an ideal time to use up all the pretty papers that you have in your crafting "Stash" 
The size I am making in the photograph is a C6.
This will fit an A6 card, which is an A4 (21 x 29.5cms) (8 1/4 x 11 3/4") piece of card folded and cut in half.

The piece you then have would be folded in half again, to produce the A6 card.
The paper for this is 21x21cms square.(8 1/4" square)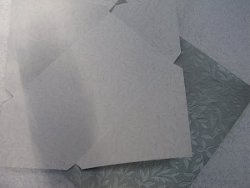 So with the pretty side face down, measure in 6.5 cms, score and fold on two opposite sides. Then on the other two opposite sides measure in 9.5cms and score and fold these too.

You will see that the lines make a small triangle as they cross. Cut out this triangle as shown in the photo, and then when you fold it the paper will lie neat and flat.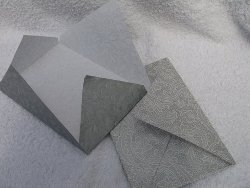 Now fold into the centre the two narrow sides and fold the bottom flap up to meet them.
With your chosen glue, stick the inside edges of the bottom flap and fold it to close the opening.

Take care with your glue as too much will seal the envelope completely, when all you want to achieve is the sealing of the edges. Leaving the one flap open to insert your card.

You will now have a really nice envelope to match the card you are making.
And for odd shaped cards take a look at Bespoke Envelopes for even more inspiration plus there are several box tutorials for boxes of different sizes to suit your cards

This personal finishing touch can really make your card stand out from all the brown ones we get with bills inside them. Uhhhh!

And when this pretty envelope falls onto someones door mat they won't be able to wait to open it and find out what it holds ....Yes!

Crafters Companion have a really good selection of papers that are perfect for making envelopes and they also have the special glue that can be added to the flap to seal it closed once you have added the card
The easiest way to get perfect result every time you are making an envelope is to invest in a scoring board.

They come in all different price ranges so there is sure to be one that will suit your budget, but it will take all the guess work and measuring away, and leave you with the enjoyment of getting professional results every time.

And giving cards with that special ingredient ....

Magic!

Return from Making Envelopes to Homepage