Lovely Hearts
by Ogunlana temiloluwa J (Olus tee)
(Nigeria)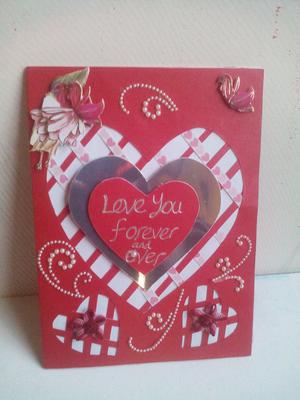 I have always thought of making cards with love shapes, it had been like a fantasy but now am glad it is a reality.

I finally came up with this red nighty card sized 14.5 by 19.4 cm.

Cutting out this love shapes with a cutting knife was truly challenging but at the end I achieved my desired outcome.

The technique for making a trellis card by Christina is what I have used for the big heart(love shape) in the middle and the ones by the bottom left and right as well.

Her ideas generously shared has helped in widening my thinking ability.

Mattered and layered a silver and red love shaped card by the middle containing the words written by me with a pen

I decorated the top and bottom(Hearts) with red flowers already made for pasting.I made use of pearls once again and this made it look really nice and attractive.

A white card is what have used inside and the same trellis pattern was used, hearts were weaved with white trellis work on a red background. I decorated using 2 silver billy bows and the rest are peel offs stickers.

Is it worthwhile? Well think it is really
What do u think or suggest? COMMENTS are highly appreciated

Christina says ...

Any card that is made with love to give to someone special has always got to be considered as worth it, and this card is lovely Olus and you have made a really good job of it

I love the dramatic red and white and the Trellis work is lovely. Thank you for your kind words and I am glad that you enjoyed the tutorial.