Here's a Horse Card...

Made from nothing more than cut shapes
Using punched or die cut shapes to create this Horse Card is easy to do ans the children will love it
Make it for them or with older children show them the stages and let them make their own ... a good way to spend a wet afternoon
Have you got lots of left over bits of card from other projects?

Well don't throw them away .... Oh No! Circles, Ovals, Oblongs all come in handy to make creatures

Put them all to good use and make some  Novelty Cards with the bits that you have.

There are lots of different ideas for you to try in that section and I hope you enjoy them.

They are ideas that are suitable for boys or girls, and they are sure to please.

So here's how to create this one...

Step 1

I have used two shades of brown card for my horse and cut out ovals and circles.
The picture shows you the pieces that you will need

There are also two long oblongs to add the sentiment too, and some spare black card for the hooves.
Ink all the edges with a Blending Tool.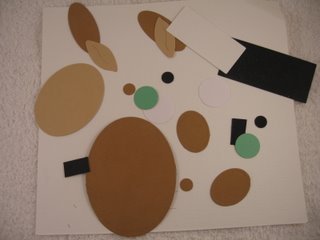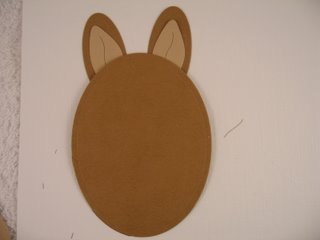 Step 2

Cut two small ovals in each of the two shades of brown and make one slightly smaller than the other to be the inner ears.

On the top of these add the main part of the horses head which is the largest oval.
I used foam pads to raise it up a little from the ears.
Step 3

Add the smaller oval to the bottom of the face at a different angle, to be the muzzle of your horse.

Into this add two smaller dots to be the nostrils.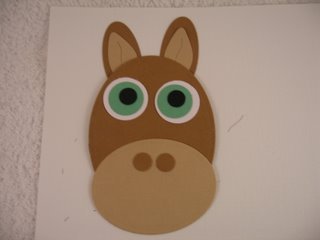 Step 4

Punch out two white circles for the eyes, and two more in the color you want the horses eyes to be.

Cut two black cicles, and into these add two white dots to give the eyes expression.
It is the white dots that bring the eyes to life ... look at the completed card and see the difference 
Step 5

Add two smaller ovals for the legs, and to the bottom of these cut two pieces of black card to be the hooves.

Add the panel between the hooves, and computer generate your sentiment.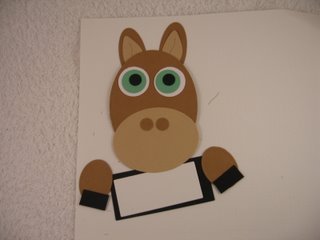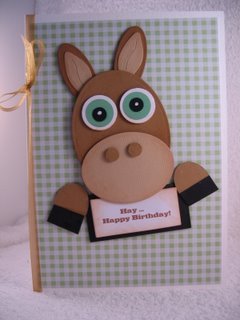 And to finish the card add some backing paper and a ribbon, or any other embellishments that you have and have fun.
Add the childs name to the plaque between the hooves for a personal touch
Or use alphabet dies to add a larger version of the name or greeting
Your Horse Card is sure to make someone happy
Return from Horse Card to Homepage