Friends Mum & My sister
by Brenda Hanlon
(Merseyside)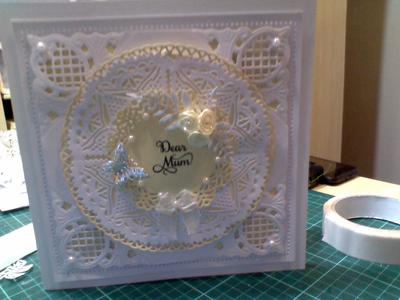 It's all yellow
I'm not a big fan of yellow but as I was asked for it as it's a favourite colour I think it came together OK and it looks more lemon.

Its an 8x8 card and I used Tattered Lace Chantilly petal for the doily look. Marianne Anna corner die first layer and Spellbinders vintage lace die for the inner doily.

Stamped and heat embossed the sentiment. I used Memory Box gentle leaf die and the flowers and butterfly are from my stash. I used a fine glitter on the leaves and flowers to give it habit if sparkle,

The Card for my Sister is in the hinged style using Christina's tutorial. I used Spellbinders Elegant labels 4.

I cut out the middle and used Spellbinders lattice die behind it. Using a smaller labels 4 die I stamped and heat embossed my sentiment.the leaf/flower shapes are from Marianne and I gave them a bit of bling by putting ting gems on the fronds.

The pink flowers I made from vellum using another Marianne die( they don't seem to have names) it's a wavy spiral though and put a pearl from my stash in the centre.

I really enjoyed making this as my sister is such a lovely person and my very best friend. I was so pleased she loved it.

Christina says ...

Two very pretty cards and I am sure that both recipients loved them.

I am not a lover of yellow either but this card is such a delicate pale lemon and it looks wonderful with all the lacy panels to it.

Spellbinders and Tattered Lace work so well together and the cards they create are a dream.