Exhibition
by Madushi
(Gampaha, Western Sri Lanka)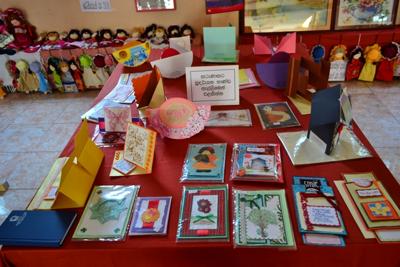 cards
I hope you can remember that I told you we're gonna hold a family exhibition in January.

These are some snaps from the exhibition.
People loved all the things and admired too.
This is a attempt of my mom, sister and me.
Somehow we won the challenge and did a successful exhibition.

About my cards.....everyone loved my new creation
and had a great sale than we expected.

I need to thank you Christina for helping us to sharpen our creativeness with your ideas and for giving us this opportunity to tell our story to the world.

And Specially I need to thank Mrs.Agnes Verkroost for helping me with all the needs and wants...

And I thank you all who admired our work.

I have many photos but here are just 4 for you..

THANK YOU.

Christina says ...

I do remember you telling us about your exhibition Madushi and that you had lots of ideas for the cards you wanted to make.

And I am so happy for you that it was such a success. Everything looks just wonderful and you must have worked very hard to get them all ready.

It is my great pleasure to be able to share my ideas and I am so grateful that people use them and make some wonderful cards.

And I know Agnes will be delighted that she was able to help you as well.

Good luck Madushi I am sure that this won't be the only exhibition that you, your mum and sister do in the future.