Empty CD jewel cases for storage
by Vee StJohn-Byles
(Scotland, UK)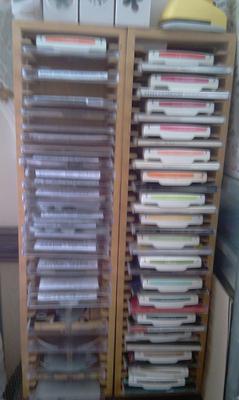 storage ideas cd cases
I bought four cd towers made from wood and they were hiding in the garage gathering dust.

Gradually as I got more and more rubber stamps I thought what the heck can I do with these to prevent them from damage.

Well now I put each category into a empty cd case - put an address label on the top which says what is in the case and then stack it into the cd rack as you would a music cd.

I am also using the cases in another way. I have found that one empty jewel case will support one stampin' up ink pad - so I now have all my ink pads and my rubber stamps in or on empty jewel cases stacked totally sasfely and tidily in two CD towers.

Some have music cds in there and are not empty so I have music while I play too haha (look closely at the ink storage on the right top picture.

I have thought up a use for one of the other two towers, maybe I can fit my small sets of dies in them (see pic bottom right) put double sided sticky tape to the back of a strip of magnetic plastic for protection and add the dies and in a similar way and label them up so I know where everything is instead of playing an impatient detective!

Christina says ...

This is a method I have adapted a long time ago and it works really well for any stamps. The look much neater in you craft space too than just lying around.

Some of the smaller dies will fit into the cases too and keeps them safe. And if you use the original package as a label you will always know what is in the case ... and if one is missing.