Easter Chicks Card

Make this Easter Chicks Card with some punched shapes or maybe you have a die cutter which will give you the shapes you need for this and many other fun animals
This little Chicks card has been created from some punched circles and some die cut ovals.
But you can buy the shapes ready cut for you if you prefer
The card I used is a 255 gsm from the Papermill Direct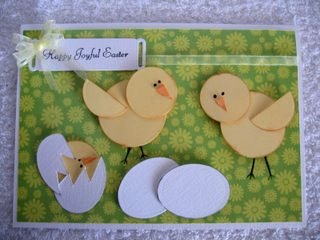 That weight will give some substance to the chicks or any of the other characters you wish to make in the Novelty Cards Section
I used some yellow card for the chicks body, head and wing a little bit of Orange for the beak and some White card for the eggs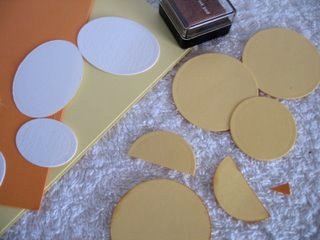 To make your chicks you will need to cut two large circles in yellow for the bodies.
Then also from the yellow I have cut three medium circles for the heads, and another one for the wings.
One of them needs to be cut in half.
Cut a tiny triangle of orange that you will use for the beaks.
Then you will need to punch or cut three white ovals for the eggs.
Inking all the edges lightly with a Blending Tool will give some definition to the shapes 

Add the two bodies to your card, in the position you want them, with some small foam pads to give them some height.
Then add the heads to the two bodies at an angle, and attach the tiny orange triangles for the beaks.
Hand draw two eyes just above the beaks or you could punch out tiny black circles if you wanted to. Adding a spot of white to the black eyes will bring them to life for you
Attach the cut half of a circle to the body as shown for the wing and hand draw some feet to the bottom of the body circle.
Two complete egg shapes have been added to the bottom of the card and another has been cut with an uneven edge to appear broken.
And this one has a chick head peeping out of the crack with the top part of the egg on foam pads to lie over the chicks head.
Stamp an appropriative sentiment for your Easter Chicks Card and add it to the front with some matching ribbon.  I have added in a tiny matching bow
You will find lots more fun characters for you to make either for your children or with them to be used on cards or other projects that they may be working on
It is a fun way to spend an afternoon crafting and you can produce a whole farmyard of animals to play with
Return from Easter Chicks Card to Homepage