Easter Joy
by Beata Ryta
(London, UK)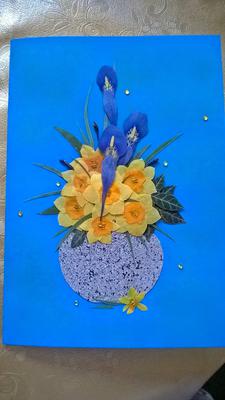 Easter Joy
The Easter Joy has only been made very recently, it took me two hours, but I enjoyed the work very much.

The card is of A5 size, it's bright blue and it has a "3D" spring bouquet of seven pressed yellow-orange narcissi and three pressed blue irises("Harmony") in a stone vase, the card is also decorated with seven small gems.

It is supposed to bring Easter Joys to the recipient, as its name says.

I have made a few similar cards, using the same technique, which I have already given away to my friends.

They were very pleased and impressed; the cards were passed amongst different people and I could hear how they admired them.

I have been making pressed flower greeting cards for ten years now. This is my true and rather an artistic hobby. When I see the cards it is amazing! A real summer beauty on paper!

I have learned quite recently how to better preserve the pressed flowers. After pressing them you need to stick them (facing up) onto a masking tape, then cover and press with a strip of paper (to cover the remaining sticky surface of the tape), and cut them out.

The cards look more neat and they are more lasting and you can handle them more easily. You can also create the "3D effect".

I sometimes sell my cards, but mostly they are made for my family and friends. I also would like very much to start to offer them for some Charities as a donation so they could sell them and make some funds.

Christina says ...

How very beautiful are all these cards and made with real flowers too. I love your tip about adding them to the tape to make them less fragile and I am sure that many people will appreciate your advice.

The Summer Melodies cards are simply gorgeous and I am not surprised that your recipients have raved about them.

They look really delicate and what a lovely way to receive some flowers that will last much longer when presented this way .