distress ink practice
by Jenny Cottam
(Doncaster, South Yorkshire)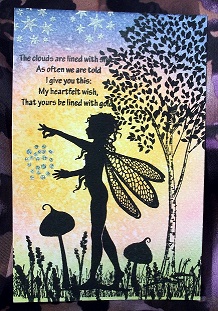 These three cards are made using watercolour card, distress ink background and Lavinia stamps fairy stamps.

I've slowly been collecting a few distress inks but have not had much success with creating backgrounds so I spent one evening practising, eventually, with a few rubbish attempts I managed to produce these three.

I used Chipped sapphire for the sky, old paper and iced spruce to create the 'grass' and for the middle section round the fairy I used mustard seed and wild honey.

For the one in the frame I decided to give a hint of pink by using picked raspberry. I then lightly spritzed with water to create a slightly mottled effect.

I've finally got a stamping platform so had a great deal of fun using it to create definite black images for the fairy and foliage.

I'm quite pleased with the finished products so to speak. The one in the frame is a little extra to go with my friend's birthday present to put in her craft room.