Cupcake Bookmarks almost good enough to eat!
by Kim
(Morbihan, France)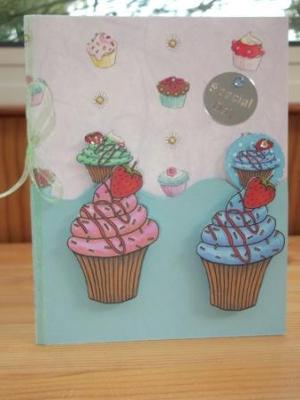 Two bookmarks
I came across the bookmarks on this site whilst looking for ideas for making something with my friends who join me in my Crafty Cottage, once a week here in France.

I like the idea of incorporating a little gift with a card and thought the bookmark a very useful one!

It also appealed to the true thrifty crafter in me as it is very useful for using all those little offcuts of card and paper.

When looking for all those little "saved treasures" you will also come across things in your stash that you forgot you even had!!

I used the cupcakes to make this example card to give my crafty friends some inspiration.

We had lots of fun this afternoon making these and I will certainly make some more soon!

I made the shaped pocket to layer onto the decorated card blank so that I could attach the bookmarks and then hide them behind larger cupcakes!

Also shown are some of the others I made using ribbons, bead wire and rubber stamping.

Using medium and large paperclips according to the size of the embellishment used, I found silicone glue best to fix the two sides of the embellishment although one of my crafty friends used thick double sided tape which worked well too.

I have been crafting most of my life doing everything from dressmaking to macrame to more recently, mosaics and cardmaking.

Since moving to France I have my own crafty space where I can spread out and be as messy as I like and not have to worry about clearing away every time I have to stop!

I mainly make cards for friends and family celebrations, but have recently been asked to make tailor-made cards for friends' families and have been selling them for this purpose.

I find this kind of cardmaking challenging in designing and decorating the card according to people's hobbies/interests and trying to make them unusual and special for the recipient.

Occasionally I get chance to sell them at local fetes and for charities which is very rewarding.


Christina says ...

These little gifts are so easy to make and yet fun to give. There is another idea for a different style of bookmark and you will find it in the Easy Projects section.

It is the Bookmark Card and it is just aas easy a gift to make as the Paper clip Bookmark that Kim has featured here.

Can I be in your gang please? I would love an afternoons crafting in a cottage in France ...it sounds idyllic and I'll even bring the biscuits or maybe some cake....

Happy crafting.