Circle Punch Cards
When time is short and you need a quick card...make these circle punch cards in no time at all. 
Have you ever been asked to produce a card at the last minute...like now!!
And you don't have time to print, stamp or colour an image.
Or you are stuck for ideas, and you just knew you should have added that something extra to your stash when you where last in the craft shop...
Well! panic no more.
Get out the trusty punches or circle dies in your stash and away you go
Most of us have a circle punches or dies, and probably several, in different sizes too.
Create lots and lots of circles in all the sizes you have, and use the scalloped edge ones too, if you have them.
Save what you don't use on this project, for the next time you need a quick card.
I have used a mix of plain and scalloped edges, in three different sizes, and inked all the edges.
And as long as your colors blend you could use a mixture of patterns.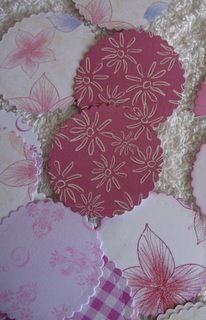 This card was made as a Tri-fold Card with the third panel removed.
Keep the spine at the top. (Tent fold)
Add the circles to the front, and use several of the sizes, layering them up on top of the larger ones.
Add gemstones to the spaces, and some of the circles, and add a sentiment. 
This card has had the middle taken out of the large circles.
The layered panels are glitter and textured card.
The ribbon was stuck to the panel and the circles laid over the top with foam pads.
Bows and a sentiment complete the look of these Circle Punch Cards.
A quick and easy solution when time is short.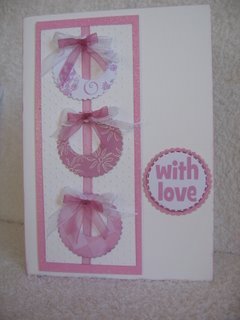 Now I know they are pink...but if you make them in blue, green, brown, coffee and cream, turquoise or any other color they can be just as suitable to send to the men.
Spots, stripes, abstracts or squares...just don't add the flowers!!
And don't forget that a similar kind of look can be created from other punches or dies that you have in your own collection like squares, ovals, rectangle's and different shapes too.
Make them look different by using mirror or glitter card for a more luxurious look. Just enjoy playing 
And for the children take a look at the Ladybird Card
Novelty Cards

Easy Cardmaking Projects

More Projects

Papercrafts

Kinetic Cards

Cardmaking Sketches

Embellishments

Cardmaking Equipment

Return from Circle Punch Cards to Homepage