Cats and Cards don't mix!
by Sydney Bonham
(Forest Park, GA)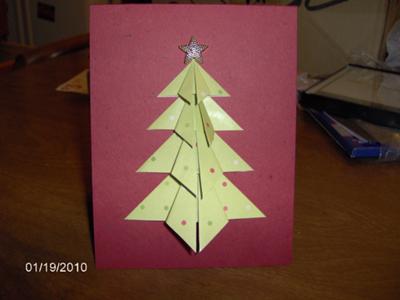 Origami Christmas Tree
I always have "help" from my cat Marvin whenever I'm making cards.

He loves to bite any piece of paper that moves and has "autographed" a lot of things.

Paper strings are a favorite of his, along with anything that looks like it might move.

Last year I found the instructions for Origami Christmas Tree cards at Seasons of Stamping website, and was so pleased with myself after finishing the very first one.

It really did look good! I can't remember what made me get up - either the doorbell or the phone rang - and when I got back, there was Marvin, happily munching on the tree!

Luckily, I was able to take it apart and re-do the chewed parts, but learned a valuable lesson.

Never turn my back on a finished card when Marvin is around!!

Christina says ...

What a lovely story and I am sure Marvin is a much loved cat .... despite his card making efforts!

Origami is a fabulous way to use up papers. There are so many ways and ideas to fold the paper.

It takes some practise to get good results and this one is just lovely even after Marvins input.

But I suppose lesson learned and he will now be banished from a finished card.