Breast Cancer Awareness ...
just one click will help  and it's "Free"

Breast Cancer Awareness is something we should all be thinking about. Male or female, it's a disease that is not fussy who it goes to, because this dreadful disease can affect us all, and at any age too
Cancer strikes fear in every bodies heart and you never know if you, or someone you love, will be the next sufferer, and have their whole life turned upside down.
But there is a very simple way that you can help to support the fight against this disease, and it won't cost you any thing other than the click of your mouse button on the link.
And by helping to support this worthy cause you can bring a wonderful change to someone's life for the better and you never know ... it could just be you at some point in your future life.
Please visit the BCA website and click their link .. It opens a new window. 
Click here to provide a Free Mammogram 

Every single click will provide a mammogram for some one, some where, and maybe make their future a little more certain.
The charity need all the help they can get, and not enough people are clicking the link to support this cause.
So please click and do your bit...just one little click a day is all it takes  ... and you can help this worthy cause.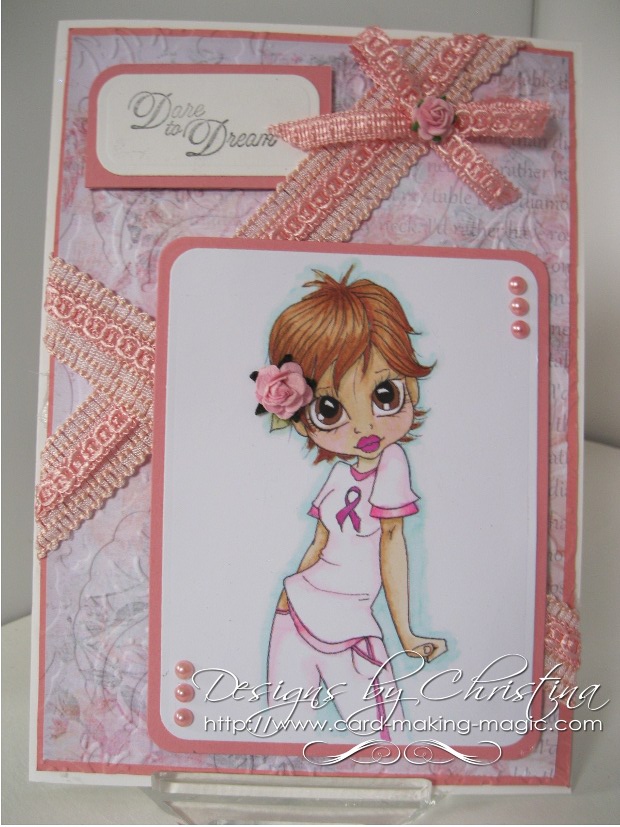 There are other ways that you can support the cause, clicking is just one of them, but maybe you could be a fund raiser for them, or help to work in their shops.
Donations are always welcome and not just the money kind. How about  furniture that you don't ned any more, or clean clothes too.
You will find a list in their sidebar that tells you ways in which you can help, and don't forget if you are a card maker then you can always donate your cards to the shops for them to sell and raise money that way. 
I like to add my cards complete with an envelope into a cellophane bag to keep them clean. It stays nice and fresh for the buyer and if you add a verse then stamp an extra one to pop inside the package so that they know what the card says without having to open it up. 
Maybe there is some item that you like to make, Painted mugs, jewellery, baby clothes, head bands, that you would be happy to donate to the shops
Anything is a little bit of help that they can make use of.
And simply by talking about it will make
Breast Cancer Awareness
something we all know about.
Return from Breast Cancer awareness to Homepage