Birdsong
by Maureen Cook
(South Australia)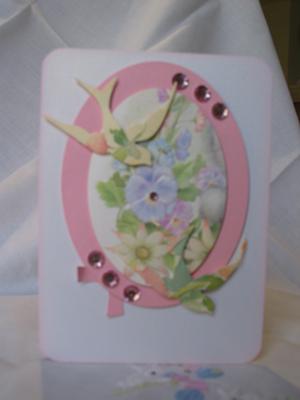 This card was made from the front of another card I received for my birthday (shop bought - perish the thought I would ever cut up a handmade card.)

I thought it was so pretty so I cut the two swallows out and the main part with my nestabilities oval die and added some bling, I thought it turned out okay.

The next photo is of Judy Garland. I just bought some old music sheets (very old!!!) and distressed them a bit more, cut out her photo and voila there she was.

Sorry if they're a bit hazy, camera was playing up.

Christina says ...

Recycling is a wonderful way to make your "Stash" go further and it is such a good idea to use up the old cards that you have recieved.

I would not for one minute think you capable of cutting up a hand made card ....oh no! How could anybody do something like that.

Distress Inks are so versatile and there is a lot more to them then meets the eye. Use them to colour ribbons and paper flowers, as well as for colouring in your images.

Altering Ribbons will show you one way to get more from them. You will find this and lots more in the Techniques section in the NavBar to your left.