A Balloon Card...
...Lovely for children to receive or make


This is such an easy card for children to make and the Balloon Card can use simple shapes

These pretty papers have been cut into shapes from a die cutter, and many of them are the nesting shapes from Spellbinders

But you may have punches that will produce the same thing, or even shop bought shapes that you haven't used.
And this is a really good way to use up all the pretty odds and ends of paper that you just can't bear to throw away.
Use up your scraps of foiled, embossed or glitter card
Make yours in different sizes too and layer them onto the card front for a really good effect.
Many of the cards in the Novelty Section are produced in the same way from the bits you may have just thrown away in the past.
---
---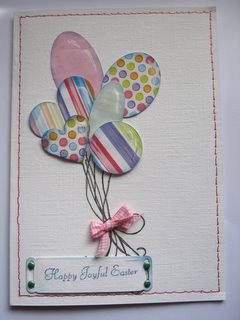 Once you have all the shapes cut,then you can ink the edges of each one just a little to help give them definition.
I have drawn a line using a white Sakura gel pen to one side of each of them to represent where the light would be reflected.
The strings from them have just been hand drawn with a coloured Sakura pen, and the tiny bow has been glued in place where all the strings would join up.
The edge of the card is finished with Faux stitching, again using the Sakura pen and it is easy to do, and yet looks real.

And add the sentiment for your occasion to the front of the card
This little card could be used a Party Invitation for the children to send out when it's their birthday.
And if you involve and teach them how to make their own Cards then they will feel really pleased with their efforts when they hand them out to their special friends.
Return from Balloon Card to Homepage