Baby Shower Invitations
Baby Shower Invitations are cards that are sent out to your friends  for them to help you celebrate this lovely piece of news that you have

Spreading the news that a new arrival is on the way, or is actually here, is a really good time to get together with your friends to have a party and celebrate.
The prettiest of cards can be made for just such an event and what could be better than those extra special ones that are made by you.
If you are having a large party and have many invitations to send then get some of your friends around to help with a kind of conveyor belt system
One can fold all the cards, another can die cut, and the really artistic of your friends could colour the images for you to add as toppers.
You can make this type of card in all the pretty pastel colours that so lend them selves to baby cards
Choose some that you already have in your backing paper collection.
Gingham is always a popular addition for any baby ... boy or girl... and the embellishments that you add can dress the card up even more
Pinks and blues are obvious choices, but consider also lilac, pale peach and turquoise.
Or just keep it neutral in lemon or pale green for your invitations. Add in some of the small embellishments that are on the market like bibs and safety pins, baby bottles or toys.
Get your imagination working and you can have a wonderful time creating these cards.
But if you have lots to make then think about the time involved.  The ones above are matted and layered and the coloured image added to a separate mat. 
The addition of the lace and ribbon make them special and I made forty of them in two days for my Grand-daughter
The stamp set that I have used is the Mini Cute and Cuddly set  from   Clearly Besotted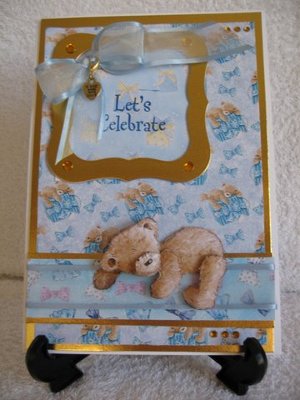 This lazy bear looks as if he has already had something to celebrate.
This is Popcorn and he is from a CD called "Popcorn the Bear" from Crafters Companion.
Add him to the front of any of your invites and send them out with pride.
Your Baby Shower Invitations will be unique to you.
For some really good ideas on how to theme your own party, click the link below and open a new window to visit
Modern Baby Shower Ideas

And take a look at the New Baby page here on the website for some more lovely ideas for cards to welcome the arrival of a new baby that you would be happy to give to your friends when their baby is born.
Return from Baby Shower Invitations to Homepage