Alphabets and Numbers
Any good collection of dies should have alphabets and numbers and good sentiment dies included so that you always have some way that you can personalise your cards or projects.
There are many ways to incorporate these into your own designs and if you have the upper and lower case you have double the choice to make things your own.
You may have an unusual name to spell out, for a personal card, or simply add the date for a special birthday or anniversary.
They can be used to decorate envelopes and boxes as well as your cards and children especially love to have their names and ages on a card made just for them, that they can show off proudly to the peers
Alphabets and Numbers Videos
The second of these videos will take you step by step on how to recreate the look shown for your self using your alphabets and numbers, so that you end up with a really pretty card. 
The video will also tell you other items that I have used and most of us already have these in our own crafting "stash"
They are not expensive and most will last you a long time to make other cards that you like.  You may not have the exact same paper as me but one pink paper is a good substitute for another, so you can always improvise with what you have.
Maybe you just want to cut out the letters and add them separately to the card front. Cut them from glitter card or bright shiny mirror card to really make them stand out.
You can use alphabets and numbers to cut out the aperture in the card and then line it with acetate to create a shaker element to your design.
Or you simply want to create a focal point to the card by using the whole sentiment die cut where everything is cut out at the same time and glued in place 
You have so many options and with Card Making Magic there is the choice of Upper and Lower case letters plus the filigree overlays that can make them even more fancy and two lovely die sets from the Landmark Collection called
Ultimate Numbers and Overlays,
and Occasions and Months 
to personalise them even more.
All my collections are available at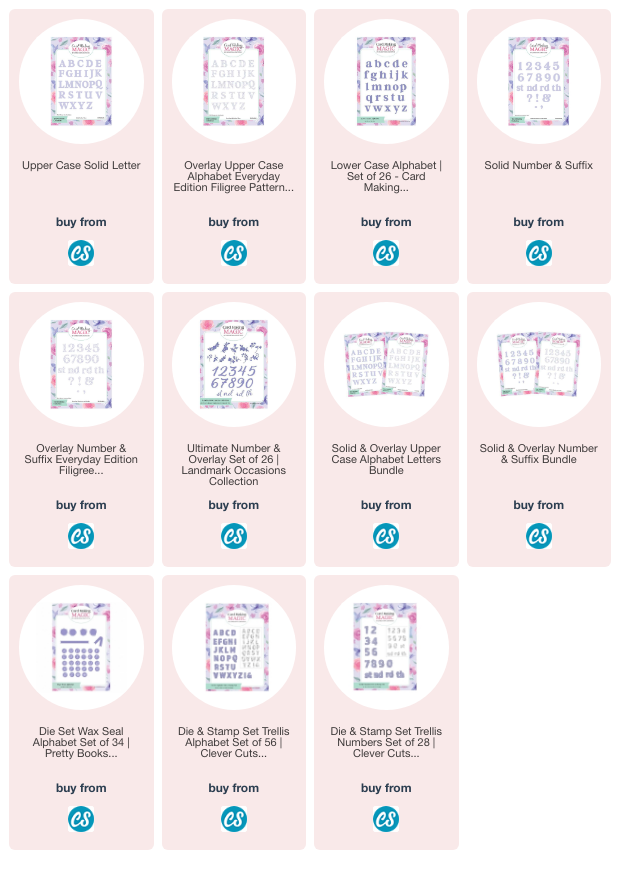 Return from Alphabet and Numbers to Homepage